Guide to wow factor restaurants in Stockholm
Stockholm boasts some truly spectacular restaurants, all of which possess a real wow factor. From super-trendy, contemporary concepts to wonderfully classic restaurants, Stockholm has truly outdone itself. Whether you're looking for somewhere seriously impressive or just in the mood for an evening of decadence with a dose of wow factor, we've got you covered. So as to help you peruse the offerings we have created this guide to impressive and wow factor restaurants in Stockholm.
You may also like:
- Best restaurants: The Complete Guide to the Best Restaurants in Stockholm
- Fine dining: The Guide to Fine Dining in Stockholm
- Cocktail bars: The Guide to the Best Cocktail Bars in Stockholm
AG: A carnivorous paradise
Widely acknowledged as one of the best restaurants in the city, AG specialises in meat - which is blatantly obvious, the large fridge chamber where meat is tenderised sets the tone upon arrival. The sophisticated minimalistic interior nods to the venue's industrial past with concrete floors, bistro-style tiled walls and leather and brass detailing. Rolfs Kök is also part of the family.
More information: Restaurang AG, Kronobergsgatan 37, Kungsholmen

AG
Miss Voon, Smak & Público: Sleek, contemporary concepts
Celebrity chef Melker Andersson's famous restaurants are a must for guests looking for that wow factor. Take a culinary trip to Asia, Miss Voon strikes an elegant balance between East and West with aromatic dishes made for sharing. Smak, located in a non-descriptive alleyway offers guests the opportunity to combine flavours of their choice to compose an impeccable tapas-style tasting menu. With its vibrant Latino flair, Público seamlessly fuses its nightclub setting with exotic cuisine, dominated by an impressive ceviche bar and a cocktail menu.
More information: Miss Voon, Sturegatan 22, Östermalm
More information: Smak, Oxtorgsgatan 14, City
More information: Público, Rödbodtorget 2, City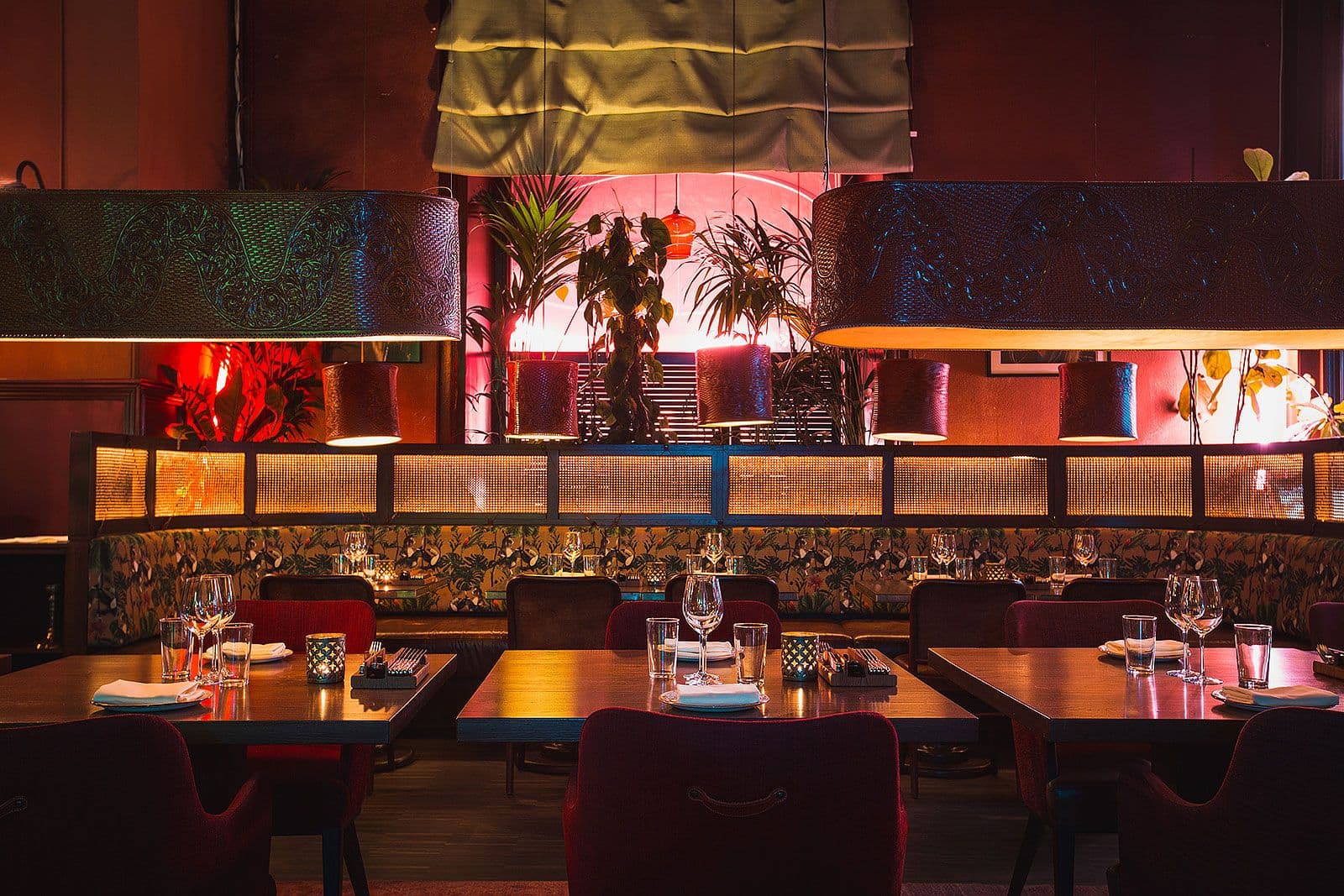 Público, Miss Voon & Smak
Farang: Modern Asian fusion
Farang is considered to be one of Stockholm's best Asian fusion restaurants and offers a culinary trip to Southeast Asia. The modern industrial-style interior has a distinct metropolitan feel, aromatic food with an innovative edge is served and the menu is adapted to suit allergies and vegetarians.
More information: Farang, Tulegatan 7, Vasastan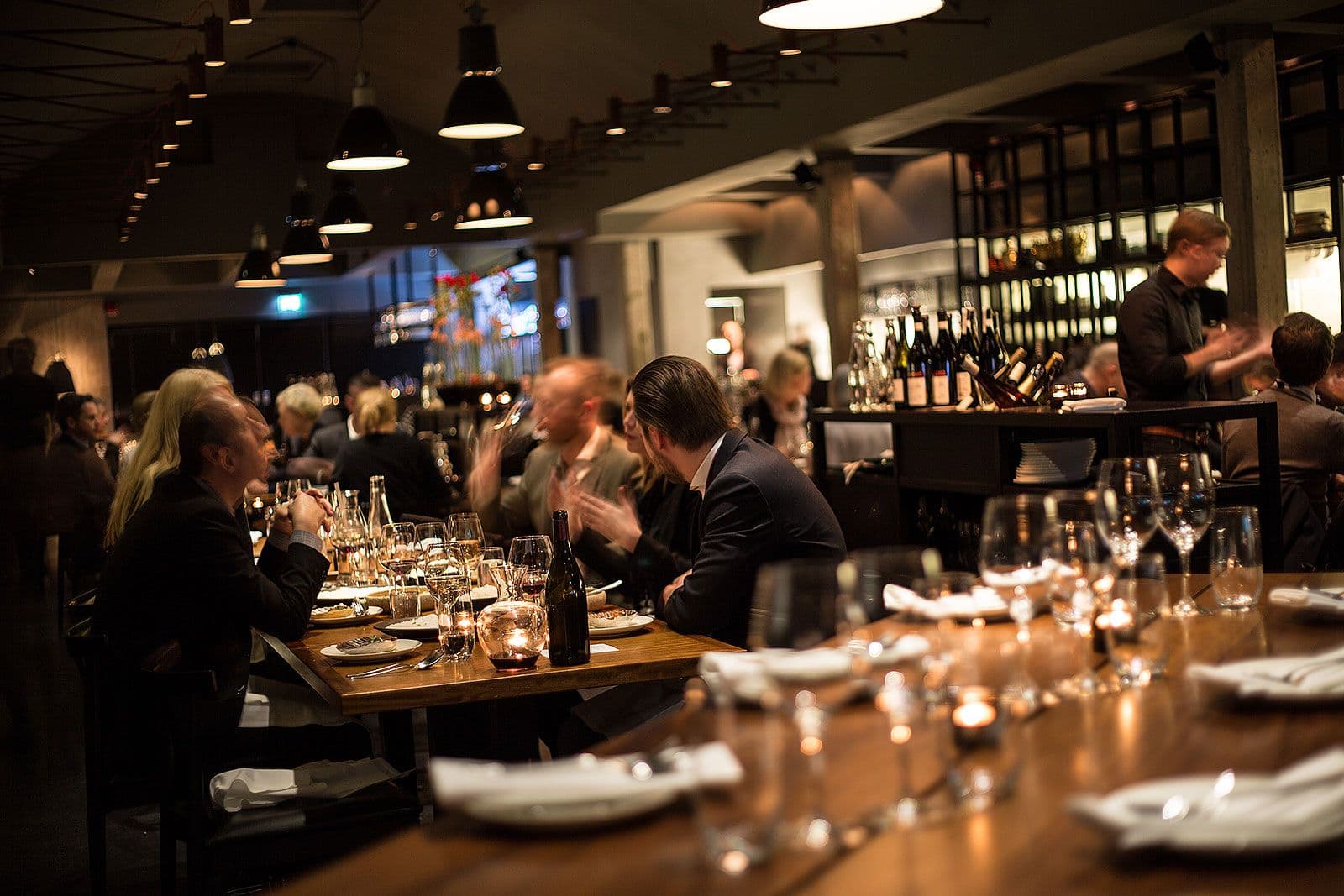 Farang
Mister French: Glamorous Gatsby vibes
Mister French has transformed the historic customs house in Gamla Stan into a modern brasserie with style cues from the roaring 20's and enviable waterfront views. The seasonal menu consists of staggering seafood platters, lobster, American caviar and char-grilled meat. The outdoor terrace is a popular haunt during summer months.
More information: Mister French, Tullhus 2, Skeppsbrokajen, Gamla Stan

Mister French
Vassa Eggen: Sophisticated NYC-style steakhouse
Over the years Vassa Eggen has had multiple guises, the most recent - a sleek NYC-style steakhouse. The modern restaurant complete with graffiti wall-art specialises in meat - no surprises there. Boqueria, Tennstopet and Kommendören are all part of the family and offer a unique edge.
More information: Vassa Eggen Steakhouse, Birger Jarlsgatan 29, Östermalm

Vassa Eggen Steakhouse
Brasseriet: A distinguished classic
The classic Opera house has been revamped and turned into an elegantly opulent restaurant complete with Roman pillars, gold leaf and palatial views. Brasseriet fuses historic influences and contemporary preferences with a predominantly French cuisine. The outdoor terrace is equally impressive.
More information: Brasseriet, Gustav Adolfs Torg, City

Brasseriet
Shibumi & Råkultur: Low key & ultra-hyped Japanese cuisine
Sollevi's lifestyle concept houses Michelin-star restaurant Esperanto and its slightly more casual siblings Shibumi and Råkultur. Critically acclaimed, Råkultur's innovative and experimental sushi menu features predominantly, an exciting array of Scandinavian fish. Shibumi exudes cool speakeasy vibes; the sleek eatery has embraced casual Japanese Isakaya pub culture and serves luxurious street food.
More information: Shibumi, Kungstensgatan 2, Östermalm
More information: Råkultur, Kungstensgatan 2, Östermalm
Djuret & Pubologi: For the connoisseur
These sibling restaurants offer a unique edge to Gamla Stan's culinary landscape, proving once again that this area is not merely a tourist attraction. Pubologi fuses dining room, bar and gastro pub and is firmly dedicated to local produce. Djuret - translates to Animal and specialises in meat, serving one particular kind at a time depending on the season with a variety of dishes and the offering is updated weekly. Guests are invited to select wine from Leijontornet 12x8's some 14 000 bottles.
More information: Djuret, Lilla Nygatan 5, Gamla Stan
More information: Pubologi, Stora Nygatan 20, Gamla Stan
B.A.R.: Straight outta the aquarium
Blasieholmens Aquarium & Restaurang is a contemporary fusion of restaurant and food-court. B.A.R. specialises in seafood and guests are invited to choose their favourite catch of the day from the display. The relaxed ambiance and industrial-chic interior enhances the experience.
More Information: B.A.R., Blasieholmsgatan 4A, City
Adam & Albin Matstudio: Well worth the hype
Choose this contemporary concept for one of the most unique dining experiences in the city. Adam Dahlberg och Albin Wessman - two reputable chefs previously of Mathias Dahlgren Matbaren are the masterminds behind this intimate living-room style restaurant. Matstudion is only open a few days a month for dinner - be sure to book early. Their famous Japanese ramen lunch is served Mondays through Fridays and is a slightly more casual alternative.
More information: Adam & Albin Matstudio, Rådmansgatan 16, Östermalm

Adam & Albin
Lydmar, Strandvägen 1 & Milles: A charming collection
These charming siblings are welcome additions to Stockholm's culinary landscape. With its award-winning interior, Lydmar hotel's restaurant is definitely worth its reputation. The menu features French-inspired bistro dishes with an international touch. Strandvägen 1, located on one of the city's most prestigious addresses is a popular haunt for its opulent furnishings, classic cuisine and generous opening hours. Milles is a slightly more casual alternative; traditional home cooked dishes with an innovative strike a balance.
More information: Lydmar, Southern Blasieholmshamnen 2, City
More information: Strandvägen 1, Strandvägen 1, Östermalm
More information: Milles, Strandvägen 1, Östermalm

Milles & Lydmar
Speceriet: Casual fine dining
Gastrologik's slightly more casual sibling offers delectable gastronomy at an affordable pricing point – all dishes are under the 200 SEK mark. The chalkboard menu offers an exciting combination of rustic and innovative flavours made from the finest local ingredients. Sleek Scandinavian aesthetics are reflected in the minimalistic decor.
More information: Speceriet, Artillerigatan 14, Östermalm

Speceriet
Le Rouge: Parisian boho-vibes
This charming restaurant pays homage to turn-of-the-century Paris with rich velvet decor and gold detailing à la Moulin Rouge. With emphasis on local and organic produce the restaurant specialises in entrecote and salmon. Guests are invited to choose sides and sauces according to their fancy.
More information: Le Rouge, Brunnsgränd 2-4, Gamla Stan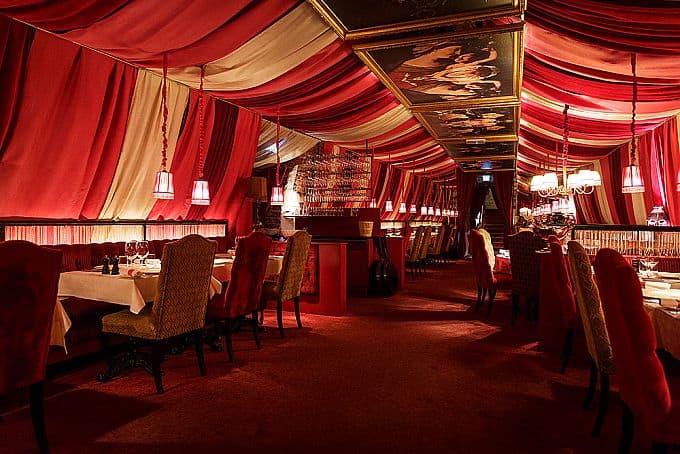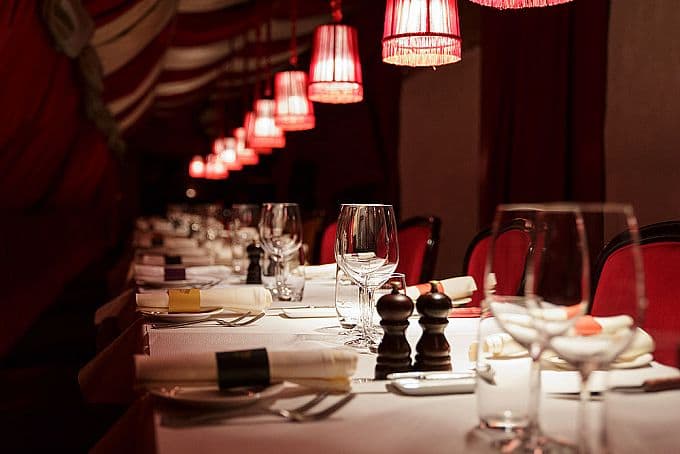 Le Rouge
Oaxen Slip: Innovative gastronomy
Reputable Oaxen, beautifully located upon the waterfront combines a two-starred Michelin restaurant with a slightly more casual bistro. The bistro's dedication to sustainability and local produce is apparent from the innovative menu to the rustic, industrial-chic décor, striking the perfect balance between old and new.
More information: Oaxen Slip, Beck Holmvägen 26, Djurgården
Matbaren: Gourmet fine dining
With its stunning views and prestigious address Matbaren, located in Grand Hôtel is bound to impress. The contemporary cuisine offers a seasonal gastronomic tasting menu. The distinguished restaurateur has won the prestigious Bocuse d'Or prize.
More information: Mathias Dahlgren Matbaren, Södra Blasieholmshamnen 6, City
Berns Asiatiska: Exotic flavours and old-school glamour
Berns houses a hotel, nightclub and two restaurants. Berns Asiatiska, with its gilded mirrors and elegant chandeliers is considered to be one of the best Asian fusion restaurants in the city. The extensive menu is every bit as exquisite as its venue. Choose from a plethora of sushi, dim sum and innovative flavour combinations to pique your senses.
More information: Berns Asiatiska, Berzelii Park, City
Griffins' Steakhouse: A meat-lover's heaven
Griffins' Steakhouse is synonymous with its eccentric decor and extraordinarily meaty dishes. The restaurant appeals to all the senses blending blends art, design and culture, adding to its wow factor. Griffin's is a must for die-hard, carnivorous meat-lovers.
More information: Griffins' Steakhouse, Klarabergsviadukten 67, City
Lilla Ego: A true original
This charmingly rustic restaurant is the brainchild of award-winning chefs, Tom Sjöstedt and Daniel Räms. Lilla Ego's seasonal menu with an innovative edge is updated frequently depending on supply. The bare brick walls, flea market finds and industrial-style lamps heighten the relaxed ambiance.
More information: Lilla Ego, Västmannagatan 69, Vasastan
Nook: Well worth its rep
Nook is well worth its much-hyped reputation, blending both Korean and European influences. Street food meets fine dining at this ambitious restaurant, this translates to innovative dishes and exciting combinations. The bar is also a popular watering hole.
More information: Nook, Åsögatan 176, Södermalm
Flippin' Burgers: World-renowned burgers
Since opening, guests have eagerly lined up outside its premises. The selective menu features six different burgers including a vegetarian alternative. According to the American website 'The Daily Meal' these burgers are some of the best in the world outside the USA.
More information: Flippin' Burgers, Observatoriegatan 8, Vasastan
Tudor Arms: A distinguished British pub
This traditional British pub has been around since 1969 and exudes genuine Union Jack-charm. In 2010 Tudor Arms was nominated the world's best British pub outside of the UK by the Daily Telegraph and British Airways - which is, by all means a jolly good review.
More information: Tudor Arms, Grevgatan 1, Östermalm
You may also like:
- Best restaurants: The Complete Guide to the Best Restaurants in Stockholm
- Fine dining: The Guide to Fine Dining in Stockholm
- Swedish restaurants: The Best Swedish Restaurants in Stockholm
- Cozy restaurants: The Guide to Cozy Restaurants in Stockholm
- Italian restaurants: The Best Italian Restaurants in Stockholm
- Meat restaurants: The Best Meat Restaurants in Stockholm
- Cocktail bars: The Guide to the Best Cocktail Bars in Stockholm
About the guide to wow factor restaurants in Stockholm
Our guide to wow factor restaurants in Stockholm is updated continuously. If you know of a great wow factor restaurant in Stockholm that we have not featured in our guide please leave a note in the comments section below. Feel free to email us at hello@thatsup.se if you feel that we should add a wow factor restaurant in Stockholm to our guide. Please let us know if you see any mistakes in our guide to wow factor restaurants in Stockholm. Otherwise enjoy your visit to restaurant of your choice.
Related articles: