The guide to the best spas in Stockholm
Stockholm has a large selection of spas and wellness centres. Escape the bustling city and treat yourself to a spa-break - what could be more relaxing than a deep tissue massage, body scrub, facial and other spa treatments? Or simply enjoy a change of scenery; recline by the pool in a fluffy terrycloth bathrobe or break a sweat at the gym. A trip to the spa doesn't necessarily have to break the bank, Stockholm boasts of an abundance of spas at various pricing points. Book an exclusive spa weekend or a casual daytrip out of the city, many city hotels offer spa deals to non-guests and are centrally located. To help you navigate the multitude of spas we have created this guide to the best spas in Stockholm. Indulge yourself.
You may also like:
- Best hotels: The Guide to the Best Hotels in Stockholm
- Best restaurants: The Complete Guide to the Best Restaurants in Stockholm

Sparadiset: A trip to the tropics
Sparadiset, which translates as spa-paradise, aims to offer guests a little slice of heaven. It is a fully-fledged spa with beautiful surroundings, Jacuzzis, amazing spa-treatments and relax-area. Book a virtual trip to Thailand; the decor is heavily influenced by the Far East, the atmosphere welcoming and tranquil.
More information: Sparadiset, Ringvägen 84, Södermalm
More information: Sparadiset, Sibyllegatan 50, Östermalm
More information: Sparadiset, Fridhemsgatan 66c, Kungsholmen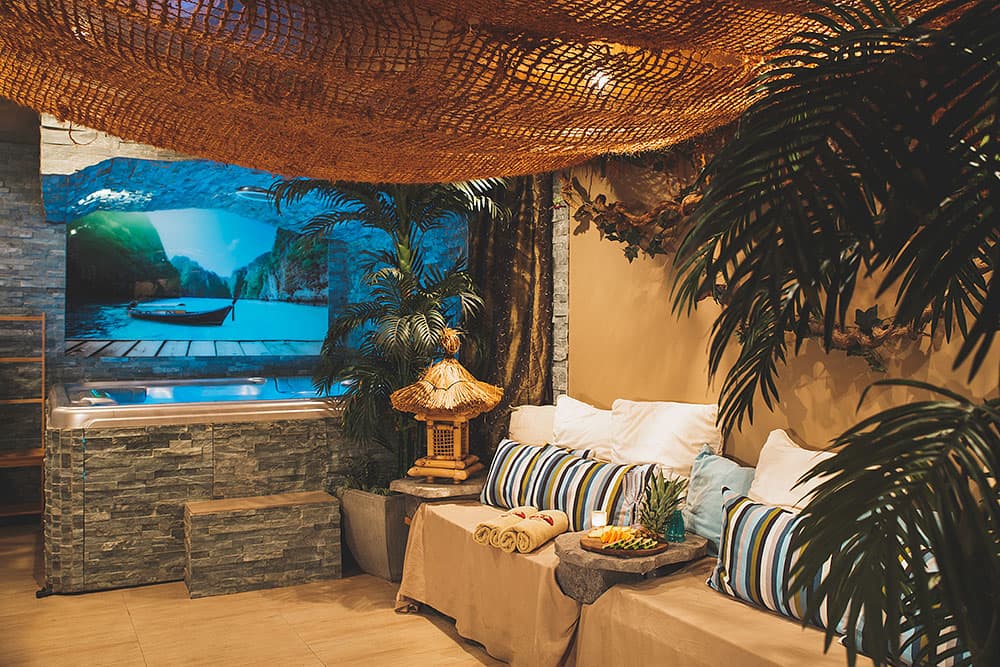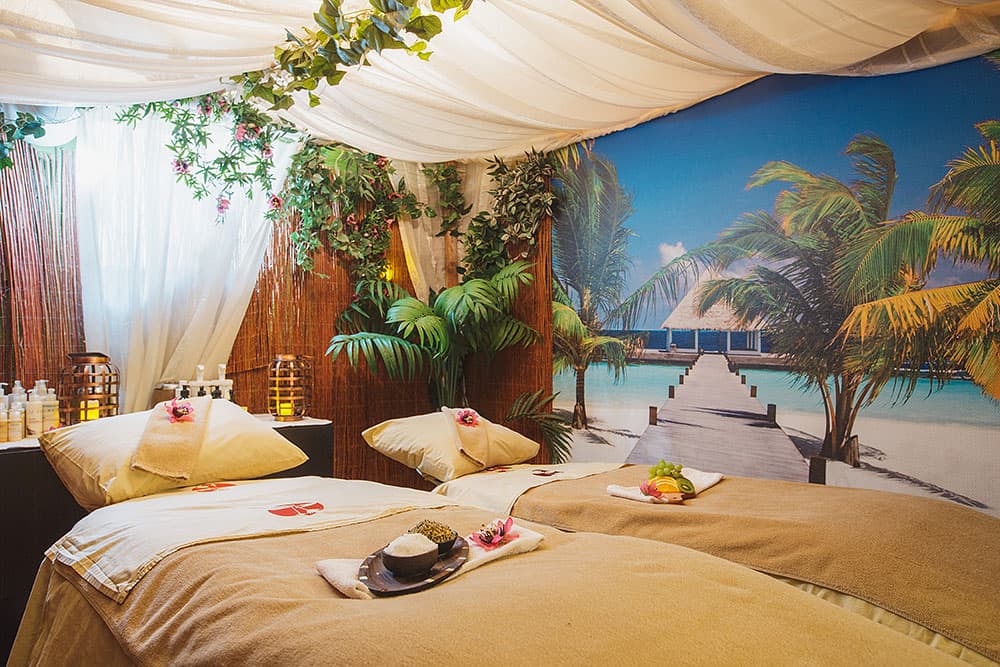 Sparadiset Södermalm & Östermalm
Elements Spa: Modern simplicity with a traditional air
Elements Spa at the Clarion Hotel Stockholm offers guests the opportunity to find their Zen and unwind - the ultimate place for a relaxing spa weekend. Traditional Indian practices meet contemporary innovation, celebrating wellness and spirituality. The premises are stunning - although not inexpensive, it's definitely worth the splurge.
More information: Elements Spa, Ringvägen 98, Södermalm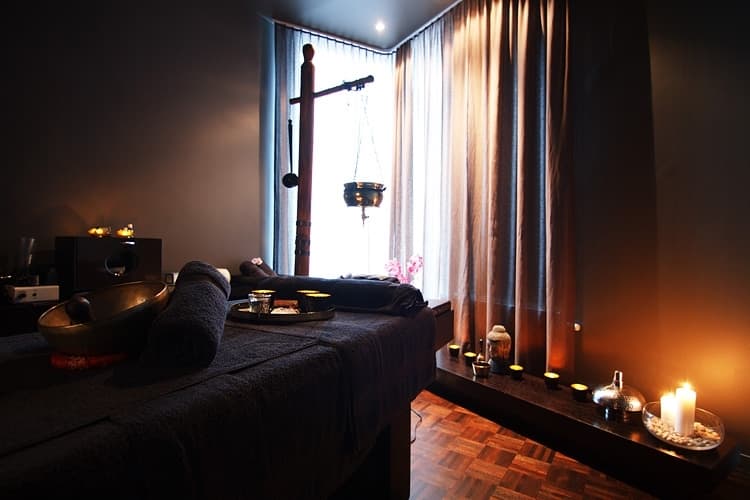 Elements Spa
Selma CitySpa: Rooftop city views
Check into Selma CitySpa at Clarion Hotel Sign for breath-taking city views. The hotel offers the ultimate spa-experience complete with a heated rooftop pool, luxurious bathrobes and slippers. Take a dip in the pool; book a spa-treatment before brunch at the in-house restaurant.
More information: Selma CitySpa, Clarion Hotel Sign, Östra järnvägsgatan 35, City

Selma CitySpa
Njuta Spa: Waterfront relaxation for body and soul
Escape the city buzz at Njuta Spa, located on the waterfront at Nacka Strand. With picturesque views, relaxing spa treatments, a private sauna and outdoor hot tub it is hard to believe that this peaceful retreat is only 15 minutes away from central Stockholm.
More information: Njuta Spa, Fabrikörsvägen 16, Nacka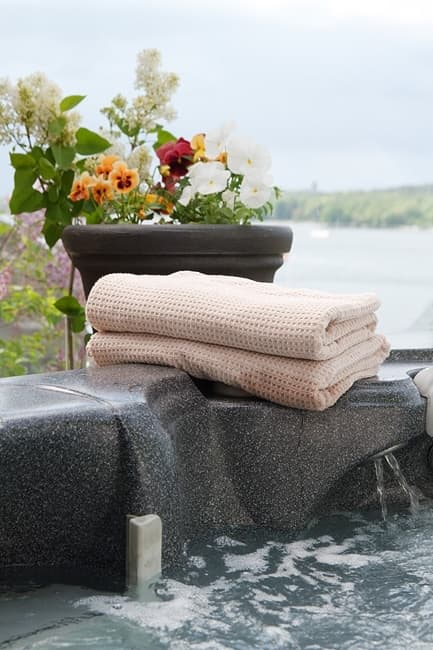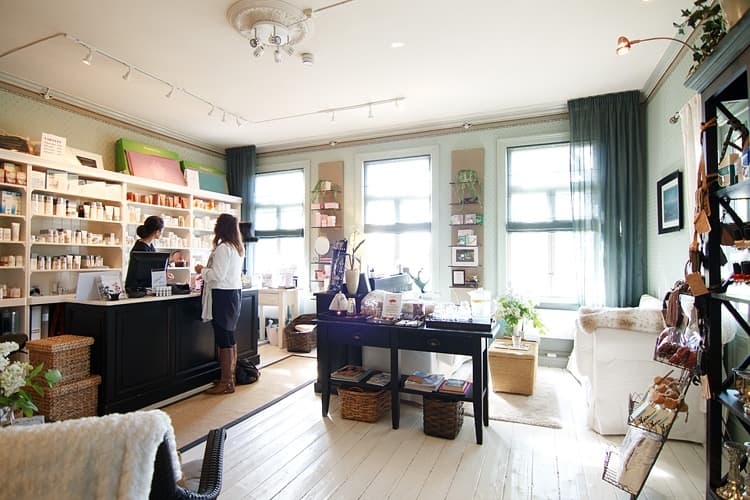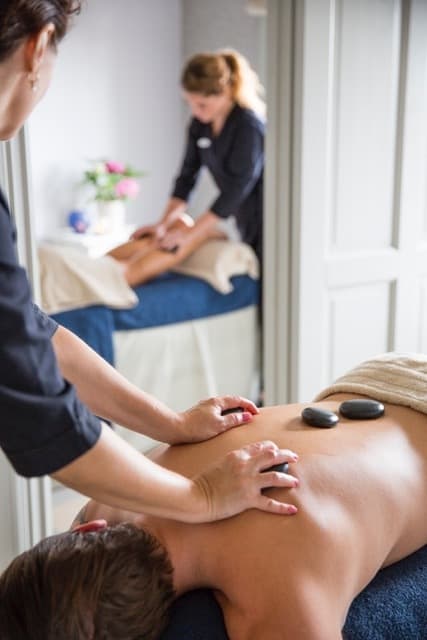 Njuta Spa

Sturebadet: A exclusive oasis in the middle of the city
This classic institution was inaugurated in 1885 and has since then offered its guests fitness and wellness facilities, complete with a beautiful mosaic tiled pool and murals. The Nordic influences are apparent, spa-treatments are offered in a traditional Sami hut under the open sky with joik music in the background.
More information: Sturebadet, Sturegallerian 36, Östermalm
Centralbadet: Since 1904
This distinguished spa facility has a generous offering of treatments, ranging from manicures to Chinese medicine and cosmetic pigmentation; yoga massage is their specialty. The in-house restaurant, Eko-bar serves organic produce and raw food.
More information: Centralbadet, Drottninggatan 88, City
Raison d'Etre SPA Grand Hôtel SPA: The city's most luxurious spa
Grand Hotel's luxurious spa is an oasis of tranquillity and well-being, inspired by the spa's proximity to the archipelago. The treatments are highly personalised catering to individual guest's needs. Book a two-hour 'Be Rested' massage for inner peace, or the 'Be Radiant' facial to enhance your complexion.
More information: Raison d'Etre SPA Grand Hôtel SPA, S. Blasieholmshamnen 8, City
Luxury Spa: In a vaulted celler in Gamla Stan
Located in First Hotel Reisen at Skeppsbron in Gamla Stan, Luxury Spa offers a unique experience. The building dates from 1600s and its history is apparent. Book a massage or a luxurious spa package and spend an afternoon in blissful peace.
More information: Luxury Spa, Skeppsbron 12, Gamla Stan
Axelsons spa: A hidden gem
Its central location is perhaps not synonymous with harmony and tranquillity, yet Axelsons Spa juxtaposes this sentiment. Offering a wide range of beautifying treatments such as body peeling and wraps, aromatherapy, thermal baths and scalp treatments to name a few - the perfect opportunity for a little splurge and relaxation.
More information: Axelsons spa, Gallerian, nedre plan, Hamngatan 37, City
Stockholm Strand Spa: A little indulgence
With its exclusive waterfront location, Stockholm Strand Spa offers an extensive selection of spa-treatments. Choose from a selection ranging from classic facials to chemical peels, or why not try a milk-skincare treatment for silky-smooth complexion? If you're feeling adventurous Strand Spa collaborates with Strand Medispa, which offers more advanced procedures.
More information: Stockholm Strand Spa, Strandvägen 7, Östermalm
Yasuragi Hasseludden: A blissful city-escape
Yasuragi combines Japanese influences with Scandinavian minimalism. With its proximity to nature and the archipelago Yasuragi makes for the ultimate spa-weekend, with activities ranging from yoga to bootcamp and treatments, massage and swimming. The hotel's restaurants, serving organic Japanese food and raw food, enhances the experience.
More information: Yasuragi Hasseludden, Hamndalsvägen 6, Saltjsö-Boo
Skepparholmen Nacka Spa: Scandinavian mindfullness
Following its 2012 renovation, Skepparholm was transformed into a rejuvenating spa facility. Its Scandinavian influences are apparent, offering both day-spa and weekend packages. Featuring activities such as mindfulness, organic treatments and classic alternatives. Heighten the experience with a walk around the premises and brunch.
More information: Skepparholmen Nacka Spa, Franckes väg, Saltsjö Boo
About the guide the best spas in Stockholm
Our guide to the best spas in Stockholm is updated continuously. If you know of a great spa in Stockholm that we have not featured in our guide please leave a note in the comments section below. Feel free to email us at hello@thatsup.se if you feel that we should add a spa in Stockholm to our guide. Please let us know if you see any mistakes in our guide to the best spas in Stockholm. Otherwise enjoy your sojourn at the spa of your choice.
Related articles: