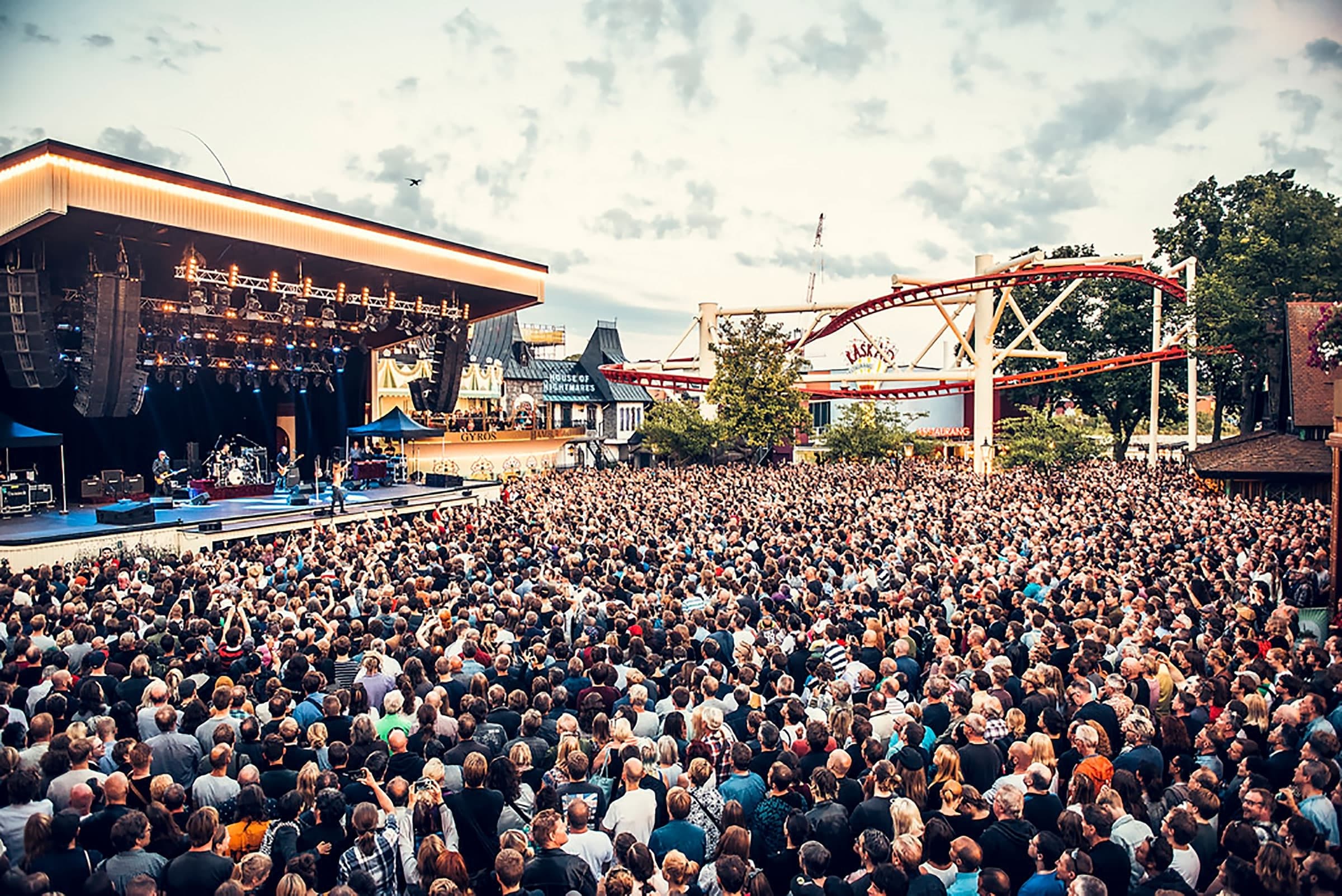 All event dates have expired.
Gröna Lund concerts 2019: this year's artist line-up
Published 2 May 2019
The 2019 summer concert season is getting closer by the minute. In May, Gröna Lund tivoli opens its doors to Stockholm's music-hungry hoardes. Lenny Kravitz, The Smashing Pumpkins and Backyard Babies are just a few of the international artists and bands booked to play on the Gröna Lund stages this summer 2019.
Grönan Live is an annual music festival that draws in thousands of visitors to the tivoli between May and September. Countless world-famous artists and bands have performed on both stages over the years, creating unforgettable memories.
Below we've listed the artists that have been announced to perform concerts at Gröna Lund this summer.
2 May: Wiz Khalifa
3 May: Mustasch
9 May: Kalle Baah
10 May: Sarah Klang
16 May: Benjamin Ingrosso och Felix Sandman
17 May: Thomas Stenström
19 May: Samir & Viktor
23 May: Carly Rae Jepsen
24 May: Backyard Babies
27 May: Satan Takes A Holiday
28 May: Linda Sundblad
29 May: J Balvin
30 May: Lenny Kravitz
31 May: The Smashing Pumpkins
3 June: Remu & Hurriganes
4 June: Veronica Maggio
5 June: Veronica Maggio
6 June: Veronica Maggio
7 June: Kris Kristofferson & The Strangers
9 June: Peter Jöback
10 June: Royal Republic
11 June: Les Big Byrd
13 June: Robert Plant & The Sensational Space Shifters
14 June: Tjuvjakt
17 June: Sting
18 June: Victor Leksell
19 June: Stone Temple Pilots
24 June: Eva Eastwood
25 June: Gojira
26 June: Dropkick Murphys
27 June: Di Leva tolkar Bowie
1 July: SVEA
2 July: Timo Räisänen
3 July: Matt Corby
4 July: Band of Horses
8 July: Hästpojken
9 July: Maja Kristina
15 July: Christian Kjellvander
16 July: Weezer
22 July: Lisa Miskovsky
23 July: LOVA
29 July: Monster Magnet
30 July: De Lyckliga Kompisarna
5 August: Shirin
6 August: Pale Honey
9 August: Hoffmaestro
12 August: LBSB
13 August: Skinny Lister
14 August: Ava Max
15 August: Miss Li
16 August: Danko Jones
19 August: Bastille
20 August: Hozier
21 August: Jireel
22 August: Movits!
23 August: Seinabo Sey
29 August: Fricky
30 August: Petter
5 September: Jill Johnson
6 September: Millencolin
12 September: Cherrie
13 September: The Sounds
19 September: Graveyard
20 September: Stor
26 September: Saxon
27 September: Miriam Bryant
Thatsup will be updating the list regularly. You can also check out the programme at Gronalund.com.