Det här är ett av mina go-to recept på helgerna när jag vill ha en god frukost eller brunch, för den passar precis lika bra till båda. Frittata har kommit lite i skuggan av omeletten, i alla fall i Sverige, men för mig vinner denna rätt alla gånger. Här finns så mycket mer smak, och den får en annan textur tack vare att man bakar den i ugnen.
För er om som inte känner till Frittatan, står det så här på Wikipedia:
"Frittata is an egg-based Italian dish similar to an omelette or crustless quiche or scrambled eggs, enriched with additional ingredients such as meats, cheeses or vegetables."
Du behöver:
Ägg
Parmesan (eller någon annan hårdost du tycker om)
Vegetarisk mjölk
Små kvisttomater
Ricotta
Mozarella
Spenat
Rödlök
Örter (denna gång färska)
Olivolja
Salt
Peppar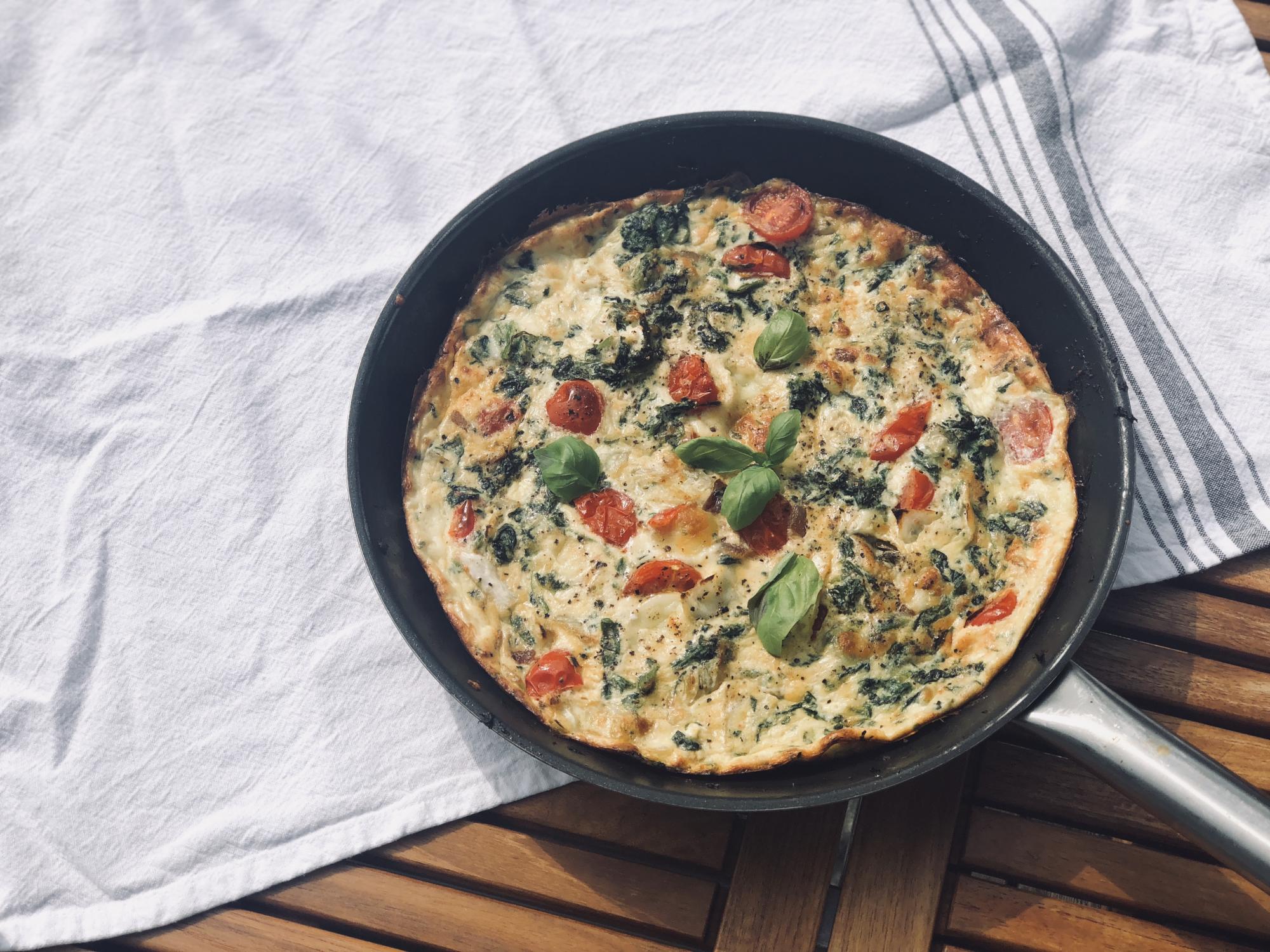 Gör så här:
1. Sätt ugnen på 180 grader (varmluft)
2. Blanda två ägg med riven parmesan och en gnutta mjölk.
3. Skär rödlök i bitar och stek på medel värme i olivolja (tänk på att välja en stekpanna som får plats i din ugn).
4. Tillsätt grönsaker eftersom (hårdast först, osten sist), tomater, spenat och örter, salta och peppra. Sist ricotta och mozarella-ost i bitar.
8. Höj temperaturen på spisen och häll över äggblandningen i stekpannan, jämt fördelat. Låt det steka ett par minuter tills det börjar få en fast konsistens underst, och ställ sedan in stekpannan i ugnen.
8. Låt stå i ca 5 minuter och växla sedan till grill för att få en fin yta uppe på.
9. Färdigt! Tänk på att inte bränna dig på stekpannans handtag!
Precis som med så mycket annat, går denna rätt att anpassa efter vad du har hemma och tycker om. Fyllningen blir nästan alltid olika beroende på vad jag har i skafferiet eller är sugen på, så det är bara att byta ut ingredienserna. Som regel blandar jag alltid ägg + parmesan + mjölk och grundar med någon typ av lök: röd/gul/purjo/vår.