I had high hopes of fulfilling my intentions of embracing winter these past couple of weeks and writing inspiring things about wholesome activities like long-distance skating, cross-country skiing and ice bathing.
However, an absent spouse, grey skies, a broken washing machine, too much/not enough snow and a nasty case of head lice have put the kibosh on that so instead I'm going to write about the two things that are really getting me through the days at the moment: books and brownies.
These rawfood vegan brownies (or hipster brownies, as Joe calls them, slightly disparagingly, before scoffing another one) are ridiculously quick and easy to make and the best thing is my children don't like them enough to eat them all in one go, so there are plenty left for me. Here's what to do:
Whizz up 200g pitted dates, 3 dl oats, 1 dl cocoa, 1 dl nut butter, a teaspoon of cinnamon and a pinch of salt in a food blender with enough water (about 1 dl) to make the mixture soft enough to spread out into a shallow dish.
For the icing, don't bother to wash up the bowl, just chuck in another 80g of dates, 1/2 dl coconut oil, 1/2 dl cocoa and 3/4 dl water. Blend together, spread over the brownies and let it all chill in the fridge for an hour or so before sprinkling over some sifted cocoa, sea salt and/or dessicated coconut. Grab a handful and retire to a quiet spot with a good book.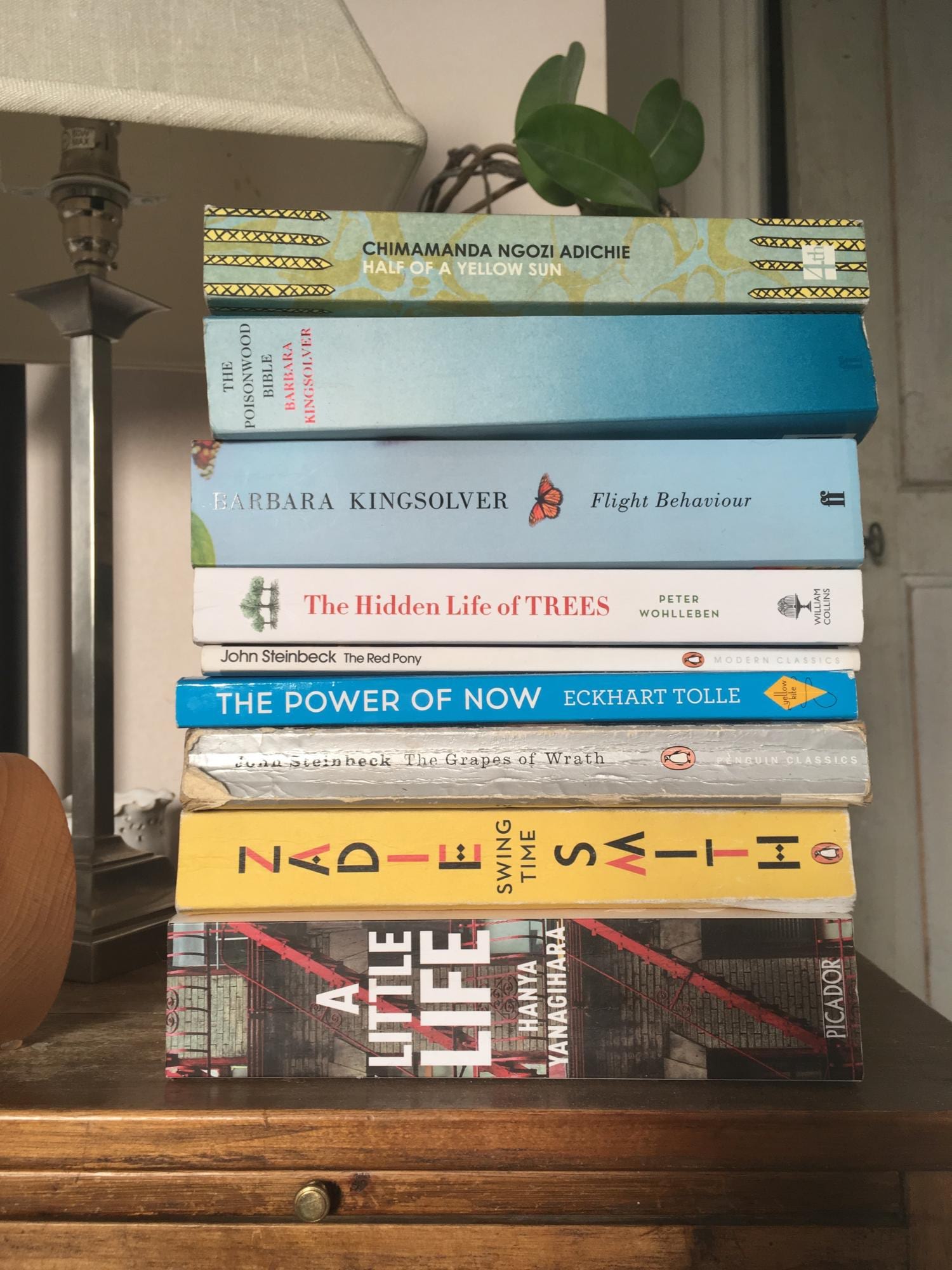 My current bedside table book tower is in danger of collapsing and, while Marie Kondo may not approve of the storage method, all these books are sparking plenty of joy so I'll share my tips before dismantling it:
Half Of a Yellow Sun is set in Nigeria during the Biafran War in the Sixties. It's skilfully written, touching and heartbreaking.
I recently re-read The Poisonwood Bible and am now working my way through Barbara Kingsolver's back catalogue. She writes brilliantly about nature and particularly the effects of climate change in Flight Behaviour.
The Hidden Life of Trees is funny and fascinating. You'll never walk in a forest or look at a tree in the same way after reading this.
If you only ever read Steinbeck as a set text in school, give The Grapes of Wrath - and all his other books - another go. His female characters aren't particularly positive or inspiring on the whole but he's a master storyteller and his themes are just as relevent today as they were in the Forties. In my top ten books of all time.
Even if you're not a fan of spiritual/self-help books, everyone should read The Power of Now. And then re-read it regularly, whenever you need some perspective or your ego's getting a bit out of control. Life-changing, literally.
Swing Time: Love Zadie Smith. Her books make me nostalgic for London and her characters are funny and real.
A Little Life: I can't decide whether I enjoyed this or not. It's long, traumatic, difficult to read and I couldn't relate to any of the characters but I couldn't stop thinking about it for ages afterwards.