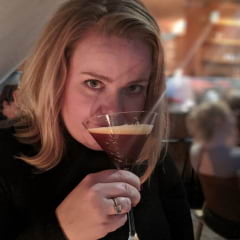 About Malin J.
Things I love
När vin och mat sjunger symfonier ihop.
Interests
Testa nya restauranger, larvigt förtjust i middagsbjudningar och högriskkonsument av sport.
My last meal will be
Hummerpasta och champagne.
Something odd about me
Mår fysiskt av illa av visslingar.
Why you should read my reviews
Brutalt ärlig inbäddat i ett humorhärligt täcke, ofta med förslag till förbättringar när det kommer till det glutenfria som serveras.
Favorite cuisine
AG.
Places I love
Förutom Stockholm: New York, Paris, Sundsvall och Storuman.
If I had a super power I wish it was
Flyga hade varit något, utan utsläpp and all that.
On a friday night you'll probably find me
I soffan med ett glas vin besserwissrande framför På Spåret.
Nickname
Men snälla, Malin smeknamnar aldrig någon på.
Best food memory
Första gången på AG, när köttet sakta smälte i munnen. Tror jag grät lite.
Worst food memory
En pissmiddag på Gimo herrgård, förbetalt och vedervärdigt. SAVE YOUR MONEY.
What I value the most at a restaurant
Bra service, hundra procent.
My favorite person to dine with
Blir det inte konstigt om jag svarar någon annan än min käresta? Han är i och för sig kanon att äta med!
Person I dream about taking to dinner
Anton Berg, radiojournalisten, har ett ohälsosamt fan-skap till honom.
My signature dish
Frittade västerbottenskroketter, hemvevad bea och en smörig entrecote.
At the top of my bucket list
Töntigt, men bo i New York.
Ultimate travel destination
Bora Bora
Member since 11 Oct 2017
Stockholm, Sweden