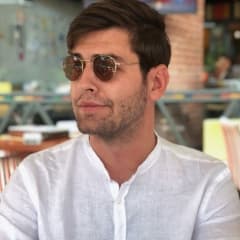 About Sebastian W.
Things I love
Hamburgare, toscabullar och polsk husmanskost
Interests
Mat, musik och mängder av serie.
Tre M om man vill.
My last meal will be
Piroger från Krakow, gärna i absurda mängder.
Something odd about me
Minns sällan namn på folk jag träffat lite lättsamt (förlåt) men antar därför inte att folk minns mig heller och introducerar mig för många gånger.
Why you should read my reviews
Jag försöker vara ärlig men är lika lättlurad som en labradorvalp så fort det viftas något gott framför mina ögon tappar jag lätt fokus. Medans det må låta negativt försöker jag vara ärlig i min bedömning.
Places I love
Uppsala och Krakow
If I had a super power I wish it was
Förmågan att kontrollera tiden eller läsa tankar skulle ju vara skoj.
On a friday night you'll probably find me
I soffan, begravd under en påse chips.
Nickname
Sebbe, Seb, Sebban, Walle och stundvis Sebbovich
What I value the most at a restaurant
Det finns såklart flera faktorer. Hur bemöts man av personalen, är lokalen mysig och något lockande? Är det samma volym som på Leos Lekland under sportlovet eller är det lugnare och därmed mer behagligt?

Maten - Kvalitét, är det lokalproducerat? Vego?
My favorite person to dine with
Sambon, vänner och familjen
Member since 15 Sep 2018
Stockholm, Sweden