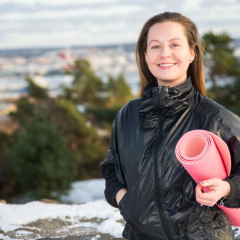 About Lizet S.
Energisk pratkvarn med passion för mat och nöje. Älskar att testa nya ställen men har såklart många favoriter jag gärna besöker flera gånger på samma månad. Genuint intresserad av människor och kultur och att alltid ge ett fint bemötande till alla jag träffar.
Things I love
Människor, mat, hälsa, staycations, och dans i mängder. Får jag ta med mig hunden vart jag än går för det plus i kanten direkt:)
Interests
Dans, marketing, hälsa, en riktigt bra serie och hundar i överflöd !
My last meal will be
Pasta! Any Pasta !
Something odd about me
Har konversationer med mig själv i spegeln
Why you should read my reviews
Vill du ha ha en genuin recension med extrem inlevelse, är jag kvinnan att hålla sig till !
Favorite cuisine
Italien
Places I love
Mariatorget i Stockholm, Paradallén i Central park, Tirta Empul-Bali, Trädgårdsföreningen i Göteborg och mitt hem som jag spenderar med min man.
If I had a super power I wish it was
Ta mig snabbt till dem jag saknar.
On a friday night you'll probably find me
Bee Bar & Kök i Göteborg alternativt Taverna Brillo i Stockholm.
Nickname
Liz, Lizzie, Piz-Liz, Lizzan
Best food memory
Köttbullarna i pomodoro sås på Grand & Gelso i Little Italy-New york.
Worst food memory
Villa Lovik på Lidingö- Värsta pulled pork i mitt liv.
What I value the most at a restaurant
Hur genuint och vänligt man blir välkomnad. Hur servisen startar konversation med gäst och hur väl de bemöter önskemål- och kritik.
My favorite person to dine with
Definitivt min man, Richard och min bästa vän, Julia. Matälskare och vinkännare i benmärgen.
Person I dream about taking to dinner
Omöjligt att välja!
My signature dish
Saffransdoftande fisk & skaldjursgryta med egengjord Aioli
At the top of my bucket list
Four seasons-Bora Bora eller Hanging Gardens-Ubud, restaurangerna skall vara bland de bästa i världen.
Ultimate travel destination
Utforska indonesiska skärgården!
Member since 21 Jan 2020
Stockholm, Sweden