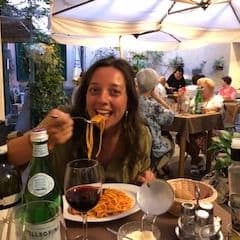 About Daphne P.
Tja! Jag är en matglad halvfransyska med mycket livsglädje! På dagarna jobbar jag med att minska matsvinnet i Sverige!
Viktigast: vänta inte på helgen för att äta något gott och städa inte på söndagar!!
Things I love
Min familj!
Att prata om mat!
Sevans vildgurkor!
Something odd about me
Kan bli väldigt irriterad på felstavade och osammanhängande menyer.
Dansar dancehall.
Why you should read my reviews
Du ska läsa mina recensioner för att jag kopplar varje besök till ett visst tillfälle. Vid vilket tillfälle smakar en Americano på Mellquist extra bra?! I will tell you!
Visar även att enkelt kan ibland vara mycket trevligare än lyx!
Places I love
Köpenhamn! - så nära Stockholm men ändå så mycket mer kontinentalt och före oss när det kommer till mat och livsnjutning!

Ile Sainte Margherite i Södra Frankrike! - köp med dig baguette, ost och melon på marknaden och åk dit på utflykt!
On a friday night you'll probably find me
På Babette!! Även på torsdagar och söndagar!
Best food memory
På en bakgata i Bangkok 07.30!! Precis kommit fram till Bangkok efter 10h-resa, varm, trött och svettig sätter jag mig med mina två resväskor brevid affärsmän som snart ska till jobbet, men först frukost! RIS, BULJONG, KYCKLING! Kommer aldrig glömma smaken på den lena kycklingen tillsammans med den kryddiga buljongen!!
What I value the most at a restaurant
Tutti! Maten spelar lika mycket roll som servicen, ljudnivån, brödkorgen, personalen och till och med toaletten!
My favorite person to dine with
De som uppskattar det lika mycket som jag!
Ultimate travel destination
Just nu: Tel Aviv!✅
Update: Lyon!
Member since 3 Sep 2018
Stockholm, Sweden