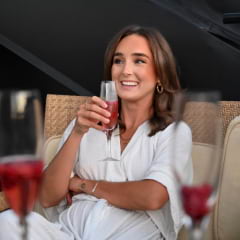 About Charlotte A.
Energisk Lidköpingsbo som har ett brinnande intresse för psykologiska processer, människors välbefinnande, se världen, äta mat och spela Nintendo 64.

Du ser mer av mina kulinariska äventyr på @charlotteahlstrand/Instagram.
Things I love
Kan spendera timmar med att bara gå omkring i olika livsmedelsbutiker, delis, caféer och vrida och vända på produkter och annat ätbart.
My last meal will be
Falafel, hummus, någon sjuk chillimayo, sallad, nygräddat libanesiskt bröd. Och till det en tryffelpasta med en varm svamptryffelsoppa vid sidan som man kan doppa bröd i. Och sen för att fylla ut bordet vore det fint med de godaste oliver som går att hitta och vitlöksstekta räkor över grill, som är nyfångade i Spanien!
Favorite cuisine
Gillar medelhavsmat och libanesiskt, även stort fan av hälsokost.
Places I love
Palma de Mallorca, instruktörsscenen och mitt kök!
On a friday night you'll probably find me
I soffan, vid bordet eller i restaurangen och avrundar veckan med en PANG-middag!
Nickname
Lotta, Lotten, C, Duracellkaninen, Lilleskutt.
Person I dream about taking to dinner
Freddie Mercury
My signature dish
Min egna granola!
Member since 30 Aug 2018
Stockholm, Sweden