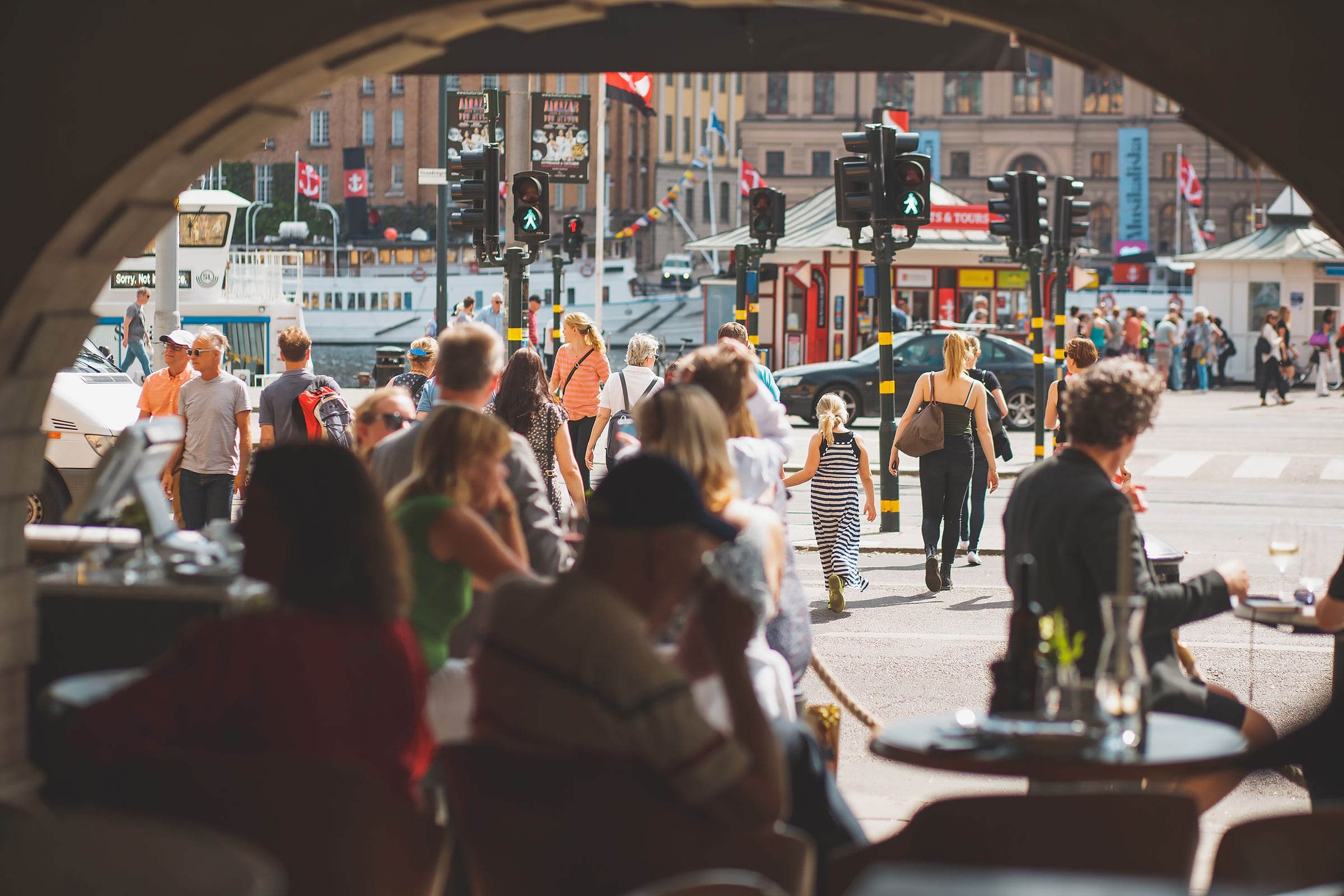 Weekend in Stockholm: 48 hours
Updated 8 Apr 2019
If you've only got one weekend to experience Stockholm, you want to make every hour count. The Swedish capital consists of various neighbourhoods all with their own charm, whether you want to eat out in upmarket Östermalm, wander around hip Södermalm, visit Vasastan, do the tourist thing in the Old Town, discover Kungsholmen or go for a walk in leafy Djurgården. Stockholm is famous for being a city of islands, including the many wonderful destinations in the surrounding archipelago, but if you prefer to stay on dry land there's plenty to keep you busy. To make your choices a little easier, we've tailormade a 48 hour stay in Stockholm, from check in to check out. If you're spending the weekend in Stockholm, follow our complete guide to the ultimate stay.
Related articles:
Check in
This hotel has a special place in Stockholmers' hearts thanks to its beautiful waterfront location and intimate atmosphere. As well as personal service in luxurious surroundings, the Diplomat is passionate about art and culture, so if you're lucky there'll be an exhibition on during your stay. Otherwise, enjoy good food and drink in one of the restaurants and bars.
Strandvägen 7c, Östermalm
Europe's first Sheraton hotel is still going strong, though with totally renovated hotel rooms. The hotel has some of Stockholm's largest hotel rooms, as well as an emphasis on personal service. Many of the city's best shops and restaurants are just a few minutes away and it's a great starting point for Stockholm's other attractions.
Tegelbacken 6, Norrmalm/City
Miss Clara has a prime location on Sveavägen, right in the heart of the city. The restaurant is always busy with guests having working lunches and friend dates, and in the summer months guests scramble for an al fresco dining spot. The hotel has a thoroughly modern decor with industrial chic elements, which has earned them a place on the list of the world's most beautiful hotels by French Vogue.
Sveavägen 48, Norrmalm/City
Pre-dinner drink
Up on Mosebacke, you'll find one of Stockholm's absolute best vantage points, Champagnebaren at Södra Teatern. You can see practically the whole city from a panoramic viewpoint from their champagne bar, making the perfect start to the evening.
Mosebacke Torg 1–3, Södermalm
Ling Long, inside the Story Hotel serves Asian food with flavours primarily from the Sichuan province, Bali and Singapore and the cocktail list has a complementary Asian theme. Thirsty city dwellers drop by for exotic drinks from early afternoon until late evening.
Riddargatan 6, Östermalm
Many regard Tjoget in Hornstull as one of the city's best bars, whether you prefer beer, wine or cocktails. There are three different options under one roof; Ölkaféet which serves tapas alongside drinks, Bodegan which focuses on wine and Linje Tio – a cocktail bar and Mediterannean restaurant. Take your pick!
Hornsbruksgatan 24, Hornstull/Södermalm
Dinner
You'll find Noi in the basement of the Nobis Hotel, a fine dining restaurant run by renowned chef trio Peder Andreasen, Christian Attlefelt and Filip Poon. Designed by architects Wingårdhs, the decor uses natural materials in dark colours to set the tone for your evening. European food with a twist is the order of the day.
Norrmalmstorg 2-4, Norrmalm/City
Enjoy Latin American food combined with cocktails with a real kick in retro-modern surroundings in Norrmalm. Supper is the perfect spot for large, social and intimate, romantic dinners alike and if you're not already having a hot evening, sampling their tacos, ceviche, taquitos and stews is sure to spice it up.
Tegnérgatan 37, Norrmalm/City/Vasastan
Innovative fusion flavours
This may well be one of Stockholm's favourite restaurants. Farang takes diners on a flavour odyssey through Southeast Asia, but the luxurious fusion flavours are like nothing you've ever tasted before. Combine with innovative cocktails for the full experience.
Tulegatan 7, Vasastan
Out on the town
This restaurant with its large bar on Hornsgatan is one of Södermalm's most popular hangouts. Spot the odd well known face among large groups of friends. There are lots of different areas to choose from, right at the back you'll find a slightly quieter bar for intimate chats.
Hornsgatan 82, Södermalm
If you're in the mood to mingle, head to "the square" at Boqueria. Regulars and locals alike flock to this buzzy spot where the atmosphere gets more and more lively as the evening progresses. DJs play everything from hip hop to techno.
Jakobsbergsgatan 17, Norrmalm/City
There's a houseparty vibe at this old pub, where the volume rises the later it gets. Dance till you drop and sing along to artists like The Spice Girls, Village People and Roxette.
Birger Jarlsgatan 33, Norrmalm/City/Östermalm
Breakfast
Enjoy breakfast, lunch, dinner and drinks at this popular Italian restaurant - the doors are open most hours of the day and night. In Bar Brillo, with its entrance from Sturegatan, you'll find a wide selection of sandwiches, croissants, bowls, omelettes and, naturally, Italian coffee. A simple stop for a quick, or slow, breakfast.
Sturegatan 6, Östermalm
At Mahalo you can enjoy delicious food without feeling the least bit guilty. Everything is made from scratch, with ingredients that are beneficial for both body and soul. The menu includes smoothie bowls, sandwiches and freshly pressed juices.
Breakfast in peace and quiet
Wake up gradually as you break your fast and drink your first cup of coffee in peaceful, relaxed surroundings. Systrarna Andersson in Vasastan is a classic café which has been around since 1930. Everyone is welcome, including four-legged friends, for a gentle start to the day.
Karlbergsvägen 45, Vasastan
Hit the shops
Stockholm's fashion mecca
If you have a weakness for exclusive designer clothes, both Swedish and international, Nathalie Schuterman is the obvious shopping destination. You'll find shoes, handbags, accessories and clothes for both men and women.
Birger Jarlsgatan 5, Norrmalm/City/Östermalm
This interiors shop has stocked a wide range of things for your home, whether you're after a gift or need help designing an entire home. You'll find products from Asplund Collection, as well as a selection from other designers. The Östermalm store sells soaps, candlesticks, lamps and rugs, among other desirable decorative items.
Sibyllegatan 31, Östermalm
Personal service and knowledgeable staff. At Lund & Lund the team are passionate about helping you find what you're looking for, and what suits you. You'll find a range of stylish suits, accessories and shoes for men. e
Sturegatan 12, Östermalm
Lunch
This Italian foodie destination opened its first Swedish branch to great fanfare in 2018. The former cinema premises on Biblioteksgatan house an enormous food hall with an emphasis on Italian produce. As well as the shop, you'll find several cafés, restaurants and bars to choose from.
Biblioteksgatan 5, Norrmalm/City/Östermalm
Popular neighbourhood restaurant
With well-loved sister restaurants including Nybrogatan 38, Paraden and Nytorget 6, expectations are high when visiting Österlånggatan 17 in the Old Town. The restaurant provides a warm, intimate indoor restaurant and a large outdoor dining area among the cobbled alleyways of the old town in the summer months. This is a classic neighbourhood restaurant with an emphasis on flavour-packed international food.
Österlånggatan 17, Old Town
Imagine you're at a French bistro, but in Manhattan - that's the vibe at Brasserie Balzac. Choose from everything from hamburgers to Caesar salad and moules frites, served in lively surroundings. The drinks menu includes everything from milkshakes to champagne.
Odengatan 26, Vasastan
Afternoon activities
Visit Stockholm's largest open air museum and animal park. Learn about Sweden's history and visit Nordic animals including moose and bears. On certain days they have special events, markets and workshops. Don't miss visiting one of their cosy cafés for coffee and cake.
Djurgårdsslätten 49-51, Djurgården
If you're looking for a little action, drop by John Scott's on Kungsgatan in the city centre. As well as visiting the pub you can try your hand at bowling. Time to show what you're made of?
Rökerigatan 23, Johanneshov
Stockholm's centre for contemporary photography is a popular must-see for tourists and locals alike. As well as one of Stockholm's most spectacular views, the building houses several exhibitions of modern, iconic art.
Stora Tullhuset Stadsgårdshamnen 22, Södermalm
Late dinner
It doesn't get much more romantic than this. You'll find Le Rouge in a cellar in the Old Town, awash with red velvet interiors. A French bistro which works as well for an intimate date as a celebratory meal with friends. The menu is dominated by fish and meat.
Nygränd 10, Old Town
You'll find this popular Lebanese right next to Humlegården park. Stockholmers and tourists drop by to eat meze, sip cocktails and enjoy the cosy, colourful atmosphere. Food is flavour-packed and most guests leave planning their next visit.
Engelbrektsgatan 37, Östermalm
As the name (which means craftsmanship) suggests, this restaurant is passionate about all things artisan. Nordic flavours combine with international influences for creative flavour fusions. The interiors include plenty of natural materials and woodwork inspired by Nordic landscapes.
Sturegatan 15, Östermalm
Sunday brunch
Urban Deli is a go-to meeting place for countless city-dwellers, with its relaxed but lively atmosphere. Families and friends gather here to enjoy a nice Sunday moment. The brunch menu includes fresh shellfish, Mediterranean salads and classic brunch plates.
Urban Deli
Choose an option
Recovery
Rooftop terrace with pool
Check into The Nest spa on the rooftop of the Downtown Camper hotel. Dive into the the rooftop pool, warm up in the sauna and relax in one of the sun loungers. There are several areas for relaxation, as well as an open bar serving tea, breakfast and fresh juices.
Brunkebergstorg 9, Norrmalm/City
Let yourself relax totally in this modern spa. The pool, which has both indoor and outdoor sections, has views over a leafy park, creating a harmonious atmosphere. There's a poolbar, two saunas, several showers and a relax area. If you're hungry, you can order both food and drink without having to leave the spa.
Ringvägen 98, Skanstull/Södermalm
Visit an exotic paradise and pick and choose from the list of treatments. Whether you're in Södermalm, Östermalm or Kungsholmen, there's a Sparadiset ready to welcome you and take care of your wellbeing.
Sparadiset
Choose an option