Traditional restaurants in Stockholm
Food trends, like any trend, come and go but timeless classics never go out of style. You can't visit Stockholm and not try the local cuisine - rustic and homely "husmanskost". Revel in traditional Swedish home cooking such as herring and meatballs. But Stockholm's culinary landscape also includes taverns serving homemade French coq au vin, Danish smörrebröd sandwiches as well as Polish pirogues. In our guide to traditional restaurants in Stockholm you will find hearty Swedish classics and home-style international delicacies.
You may also like:
- Classic restaurants: The Guide to Classic Restaurants in Stockholm
- Swedish restaurants: The Best Swedish Restaurants in Stockholm
- Archipelago restaurants: The Best Archipelago Restaurants In and Around Stockholm

Traditional Swedish

Tennstopet: A genuine classic
This classic joint opened in 1867, which is reflected in both the decor and rustic cuisine. The traditional menu features classic dishes such as toast Skagen, herring in multiple guises and of course meatballs. Over the years Tennstopet has been the hangout of choice for locals, artists, writers and musicians alike.
More information: Tennstopet, Dalagatan 50, Vasastan

Tennstopet
Tranan: Get the meatballs
Tranan is synonymous with its red-and-white tablecloths and original 1929 detailing. Widely considered to serve the best meatballs in the city - although you'll find no trance of them on the menu, order them anyway. This homely institution also serves fried herring with mashed potatoes. A well-preserved classic bound to satisfy your husmans-cravings.
More information: Tranan, Karlbergsvägen 14, Vasastan

Tradition: As traditional as it gets
Well-reputed Tradition boasts three venues sprinkled around the city and as the name implies focuses on homemade specialities. Rustic, dairy-free dishes are served without frills. Enjoy hearty meatballs, beef Roulades, black pudding - the offering also includes vegetarian and gluten-free options.
More information: Restaurang Tradition, Tjärhovsgatan 5, Södermalm
More information: Restaurang Tradition, Tulegatan 10, Vasastan
More information: Restaurang Tradition, Österlånggatan 1, Gamla Stan

Knut: Northern delights
Homemade food à la Norrland; the frozen North is home to the midnight sun and culinary delicacies that are hard to come by in urbane Stockholm. This rustic venue pays tribute to the mountainous region with wooden surfaces and fur throws. The menu features game, reindeer Carpaccio, Norrland-style flatbread pizza and artic char. Wash it down with a cranberry cocktail.
More information: Restaurang Knut, Upplandsgatan 17, Vasastan

Knut
Den Gyldene Freden: A distinguished institution
This eminent establishment has since opening in 1722, appealed to the likes of Bellman, Zorn and Taube - famous troubadours of their day. Den Gyldene Freden's legacy is well preserved and ambitious, traditional Swedish fare is served with an innovative twist.
More information: Den Gyldene Freden, Österlånggatan 51, Gamla Stan

Den Gyldene Freden
Pelikan: Meatballs and beer
First founded in 1660 in Gamla Stan, Pelikan has since relocated to Södermalm and is a must for fans of Swedish home cooking. This genuine beer hall serves golf ball-sized meatballs, pork and other rustic classics. Pelikan's eminent history is etched into its wall and is just as popular as in its heyday.
More information: Pelikan, Blekingegatan 40, Södermalm

Kung Carls Bakficka: All aboard the time machine
This hotel restaurant pays homage to quaint 19th century charm. The menu boasts modern reworkings of Swedish and French classics. Its up to you to decide whether you wish to enjoy your food in the kitchen, library, drawing room or orangery - the definition of home-style cooking.
More information: Kung Carls Bakficka, Norrlandsgatan 28, City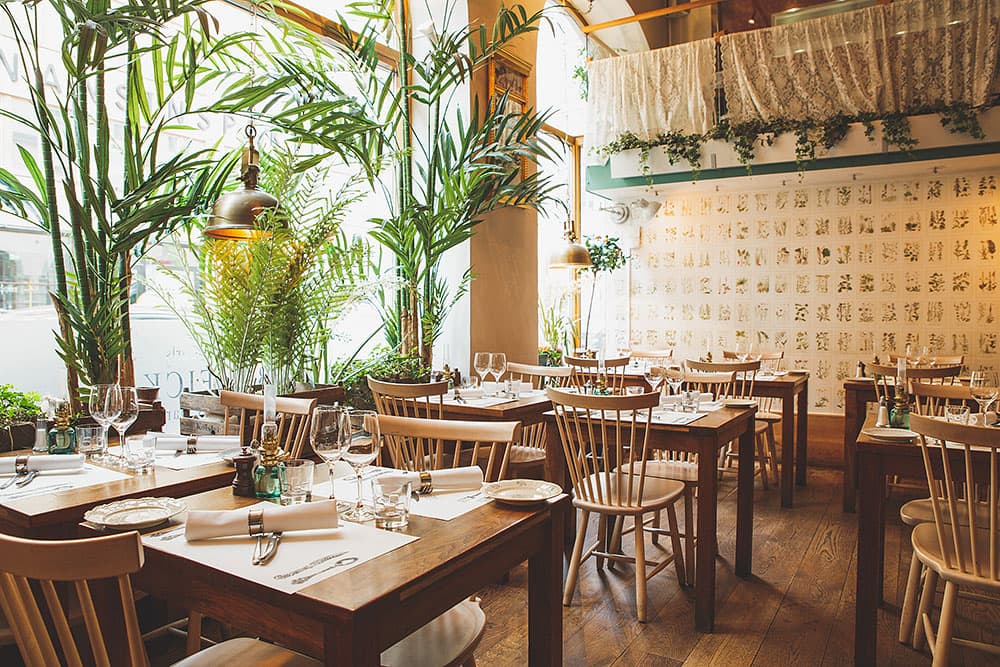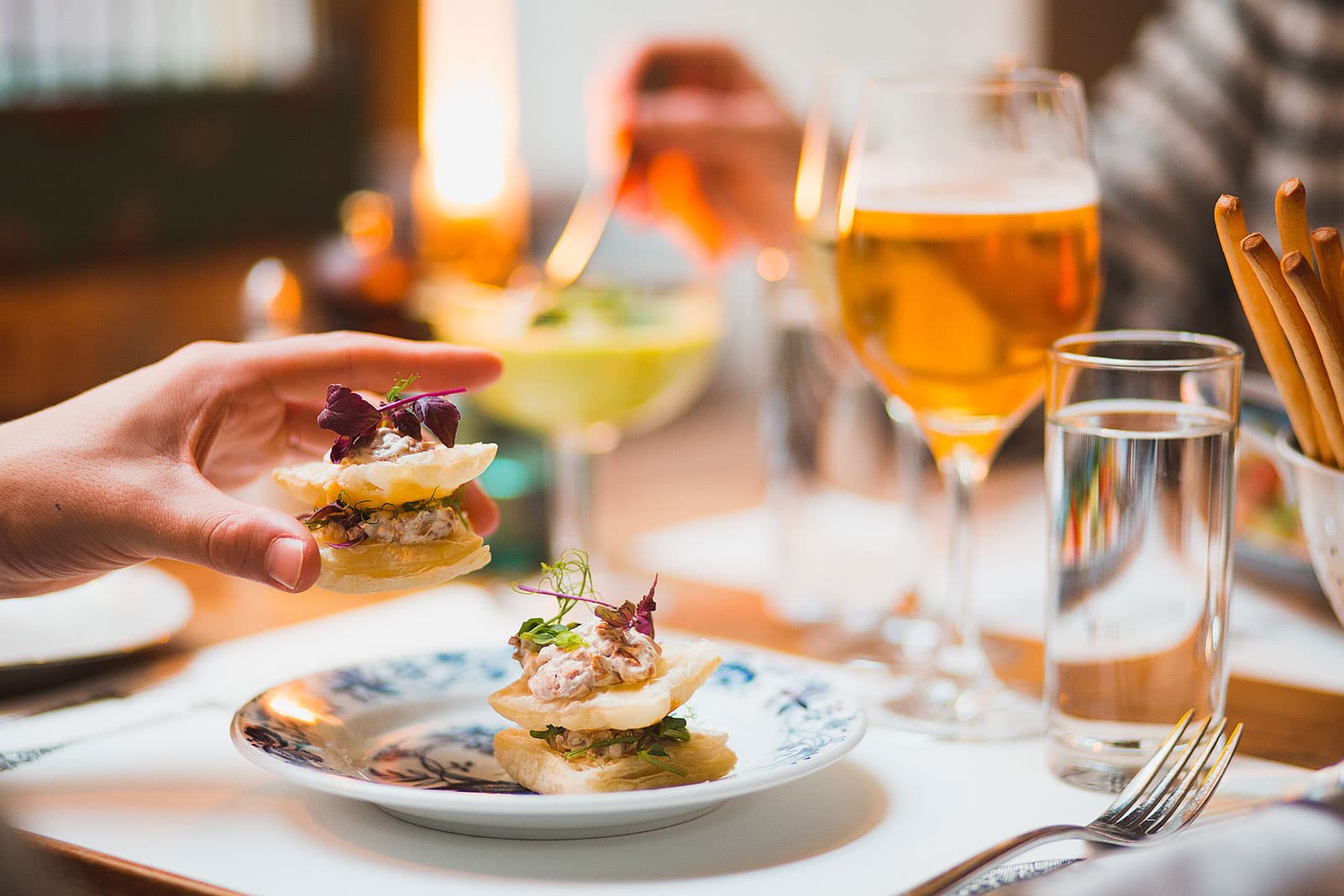 Kung Carls Bakficka
Kvarnen: Beer hall classics
This genuine beer hall serves traditional homemade fare to be washed down with artisanal beer. Showstoppers include hash browns, isterband, meatballs and of course herring. Kvarnen's savoury comfort food can be enjoyed both for lunch and dinner.
More information: Kvarnen, Tjärhovsgatan 4, Södermalm

Kvarnen
Blå Dörren: Charmingly authentic
Blue-and-white tablecloths characterise this genuine beer hall-style restaurant that has been serving homemade delicacies and beer since 1993. Both the lunch and à la Carte menu features traditional dishes such as herring, hash browns, venison meatballs and potato pancakes. As custom has it, pea soup and pancakes are served on Thursdays.
More information: Blå Dörren Ölhall & Matsal, Södermalmstorg 6, Södermalm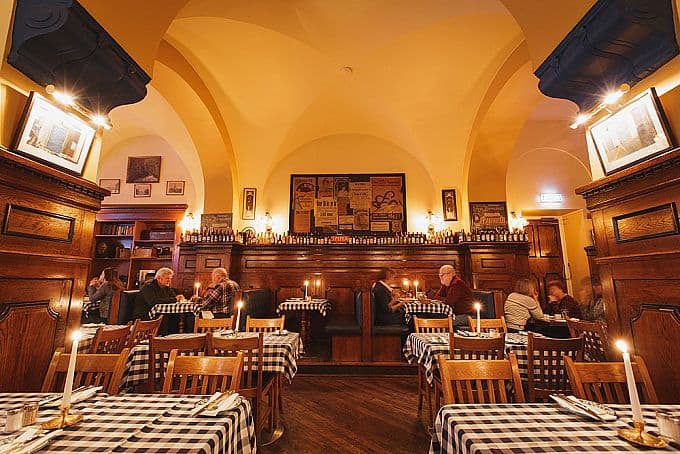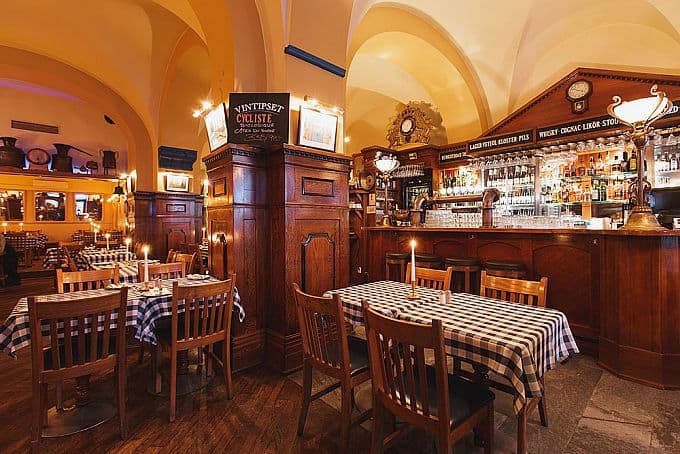 Blå Dörren

Naturligtvis: Farm to table
Naturligtvis - which means naturally - naturally focuses on organic, small scale and local produce for both your sake and for the sake of the environment. The Franco-Swedish influences are apparent and the rustic farm-to-table preferences are also reflected in the decor.
More information: Restaurang Naturligtvis, Kommendörsgatan 23, Östermalm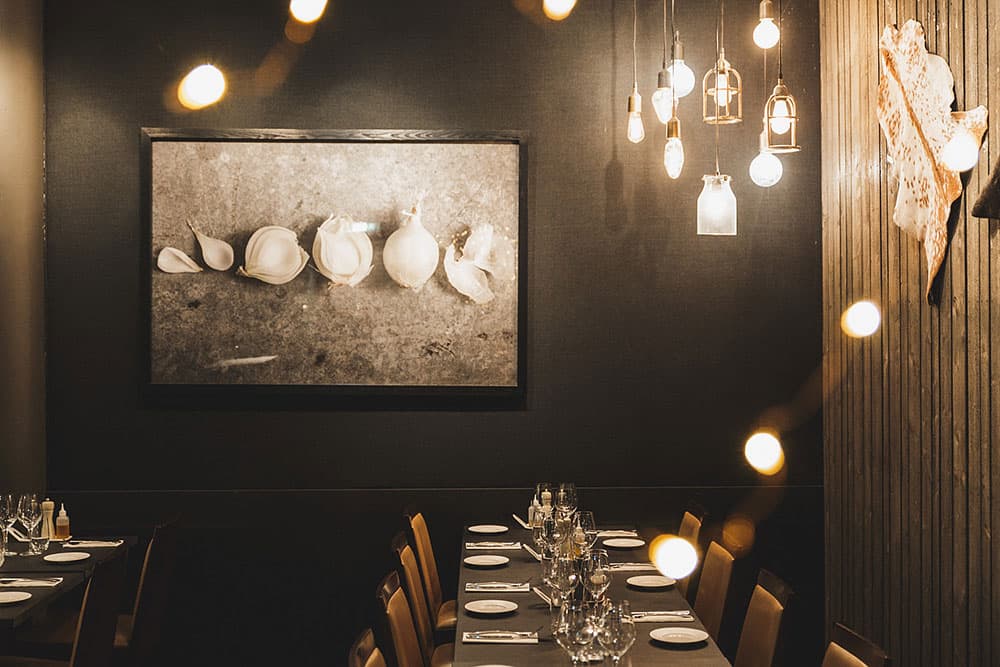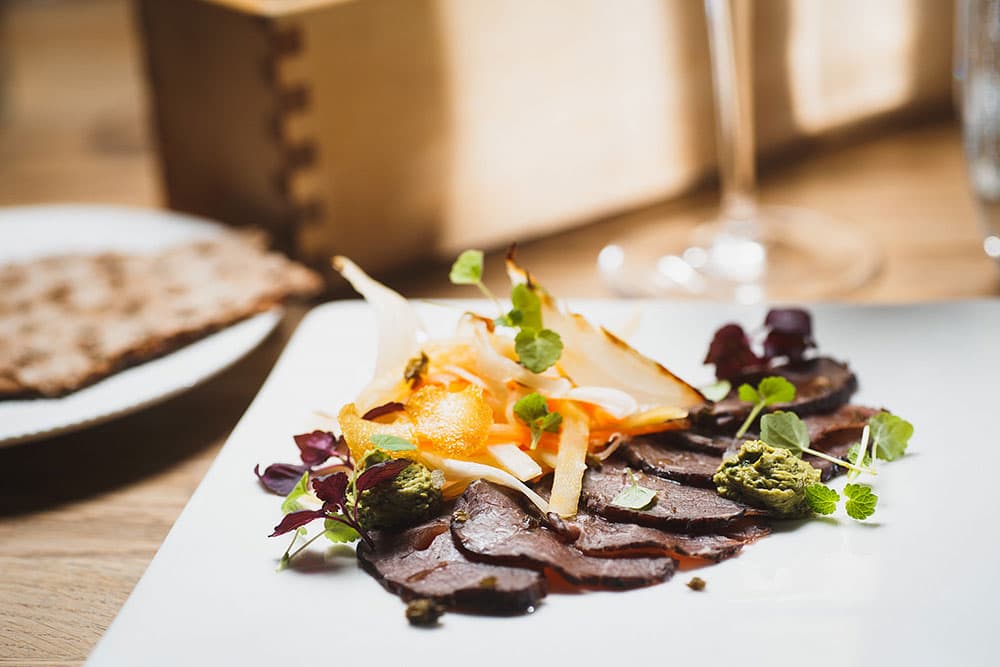 Restaurang Naturligtvis
Sjätte Tunnan: Ode to the Dark Ages
Hop on a time machine and head back to 15th century Gamla Stan. Sjätte Tunnan located on a cobblestone alleyway serves traditional, rustic food, the menu features grilled wild boar, homemade mead and schnapps. The restaurant offers entertainment in the form of fire-eaters, belly dancers and magicians and can also be booked for special occasions.
More information: Sjätte Tunnan, Stora Nygatan 43, Gamla Stan

Sjätte Tunnan
Operakällaren Bakfickan: Charitable and traditional
Distinguished Operakällaren's slightly more casual sibling boasts an intimate space with only 28 seats. Their specialty is naturally "husmanskost" and the offering is updated daily with homemade dishes such as pork, meatballs and isterband. Additionally 5 SEK off the bill is donated to UNICEF's water project.
More information: Operakällaren Bakfickan, Karl XII:s Torg, City
Under Kastanjen: Home-style comfort food
With its idyllic location and checkered tablecloths, this quaint café-cum-bakery-cum-bistro exudes traditional charm. The menu features homely Swedish classics with an international twist. The food is homemade and the on-site bakery boasts a gluten-free section.
More information: Under Kastanjen, Kindstugatan 1, Gamla Stan

Under Kastanjen
Meatballs - For the People: Quite literally
If you love meatballs then you've come to the right place. As implied by its name Meatballs For the People specialises in these typically Swedish delicacies. At least 14 different kinds are offered from classic flavours to vegetarian and fish options. Dine on-site, purchase by the pound or indulge in one of the many ready-made dishes to go.
More information: Meatballs - For the People, Nytorgsgatan 30, Södermalm

Meatballs
Traditional French-Swedish

Pocket: French-Swedish fusion
Celebrity chef Pontus Frithiof's contemporary interpretation of classic grub fuses both Swedish and French preferences. Dishes are moderately priced, most under the 200 mark, hearty flavours with plenty of greens. Kids are welcome and served organic meatballs with mashed potatoes and lingonberry jam.
More information: Pocket, Brunnsgatan 1, Östermalm

Pocket
Grodan: A distinguished classic
Grodan opened in 1985 and has a decidedly French-Swedish air. This popular restaurant is famous for its fish stew; other showstoppers include potato pancakes and minute steak. With its generous opening hours and relaxed ambiance, Grodan has over the years obtained a steady fan-base.
More information: Grodan, Grev Turegatan 16, Östermalm

Grodan
Storstad: A modern classic
Storstad has catered to a wide audience since the 90's. After a design overhaul the restaurant is twice the size it once was. The menu is characterised by French and Swedish influences, including Toast Skagen, grilled halibut, meatballs and other classics. The bar is also a popular joint.
More information: Storstad, Odengatan 41, Vasastan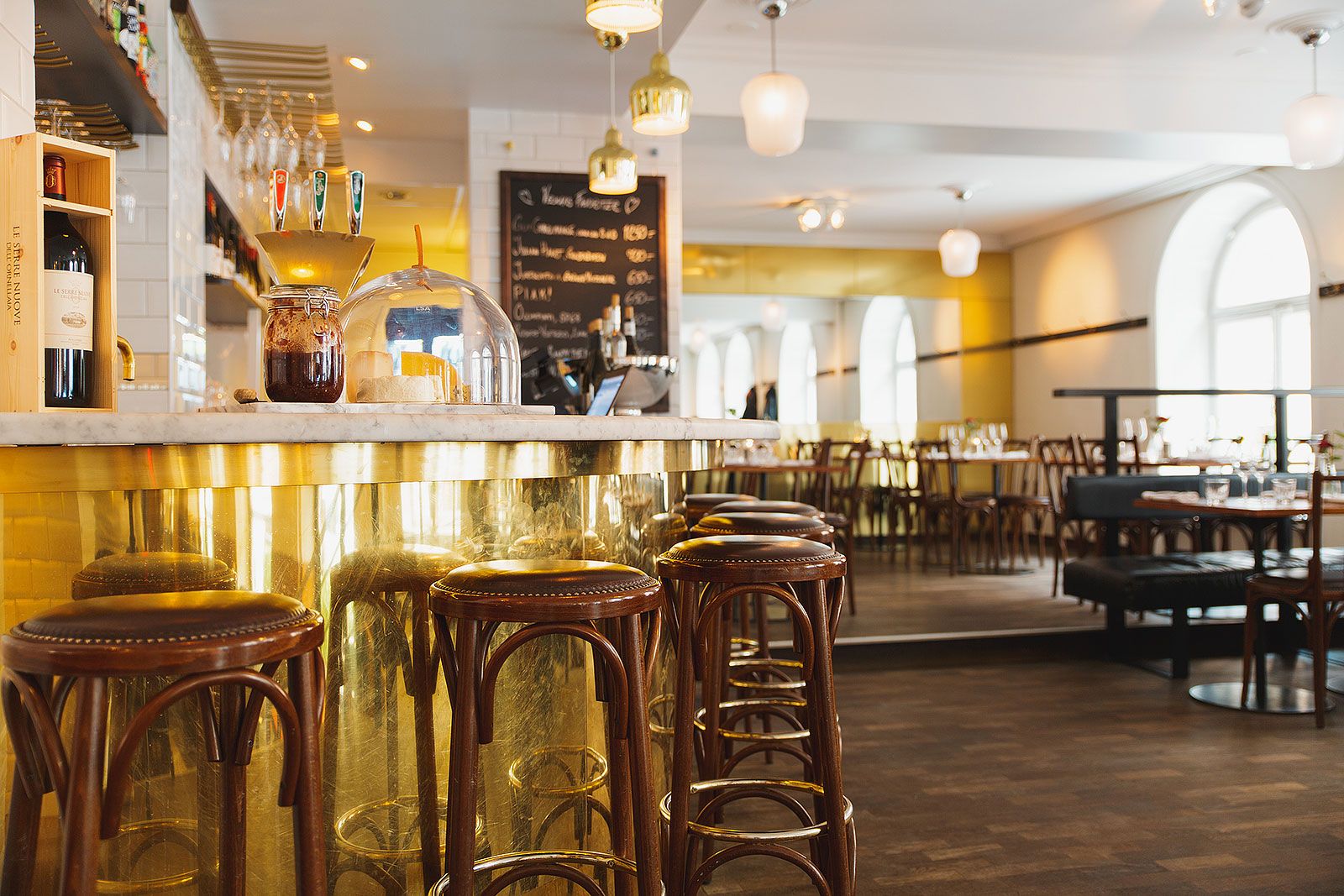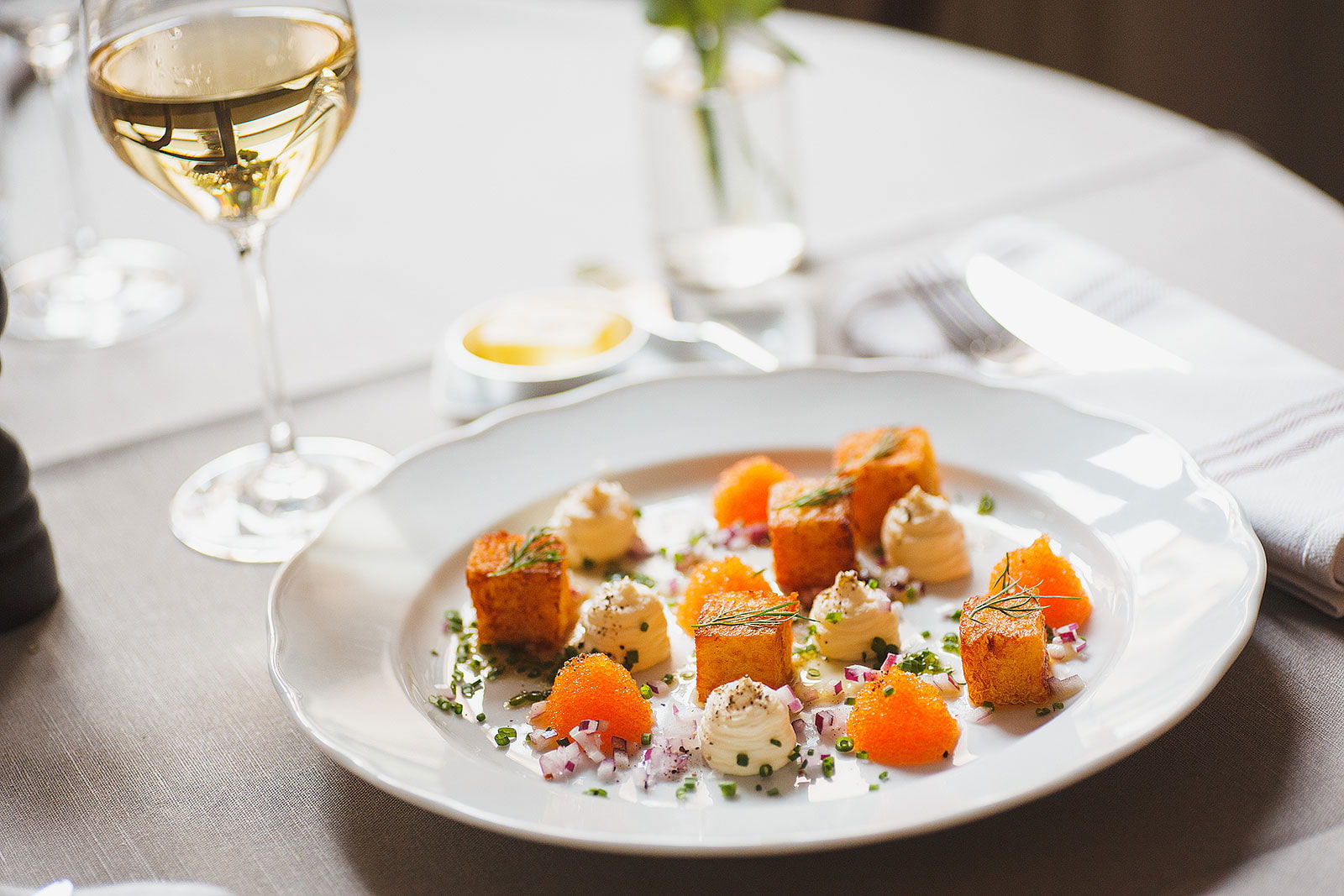 Storstad
Konstnärsbaren (KB): Since 1931
Since its opening in 1931, Konstnärsbaren has remained largely intact. Naturally the menu features traditional favourites such as herring, toast Skagen, isterband and French coq au vin. If you're in the mood for "husmanskost" the daily special is a must.
More information: Konstnärsbaren (KB), Smålandsgatan 7, Östermalm
Bullandö Krog: Nautical charm
Despite its enviable harbour views, Bullandö Krog is also easily accessible by land. This popular restaurant boasts a traditional menu featuring impressive homemade dishes. Enjoy a city respite and the distinct nautical vibes. The outdoor terrace is unbeatable summertime.
More information: Bullandö Krog, Bullandö Marina, Skärgården

Bullandö Krog
Traditional French

Brasserie Bobonne: À la Parisienne
This classic distinctly French restaurant pays homage to the city of light with white tablecloths and a quaint chalkboard menu that is updated bi-weekly. Expect piquant favourites such as boeuf bourguignon, poached char and other delicacies without any unnecessary frills.
More information: Brasserie Bobonne, Storgatan 12, Östermalm

Brasserie Bobonne
Traditional Danish

Två små svin: Delightfully Danish
No need to head over to the continent. Två Små Svin exudes Copenhagen-chic vibes in sleek beer hall setting and serves classic Danish fare, particularly the classic open sandwiches filled with everything from herring and roast beef to tofu. Naturally schnapps and artisanal beers are part of the offering.
More information: Två små svin, Årstavägen 49, Söderort

Två små svin
Traditional Polish

Mormors Kök: Polish family receipes
The Polish cuisine is fairly closely related to its Swedish counterpart, which is evident at Mormors Kök. This restaurant pays homage to the culinary skills of its Polish grandmother serving hearty comfort food such as pirogue, meat patties and other childhood favourites based on hand-me-down family recipes. Heirlooms decorate the walls and the tablecloths are hand sewn by a relative.
More information: Mormors Kök, Sibyllegatan 47, Östermalm
You may also like:
- Classic restaurants: The Guide to Classic Restaurants in Stockholm
- Swedish restaurants: The Best Swedish Restaurants in Stockholm
- Archipelago restaurants: The Best Archipelago Restaurants In and Around Stockholm
About the guide to traditional restaurants in Stockholm
Our guide to traditional restaurants in Stockholm is updated continuously. If you know of a husmanskost restaurant in Stockholm that we have not featured in our guide please leave a note in the comments section below. Feel free to email us at hello@thatsup.se if you feel that we should add a home-style restaurant in Stockholm to our guide. Please let us know if you see any mistakes in our guide to traditional restaurants in Stockholm.
Related articles: