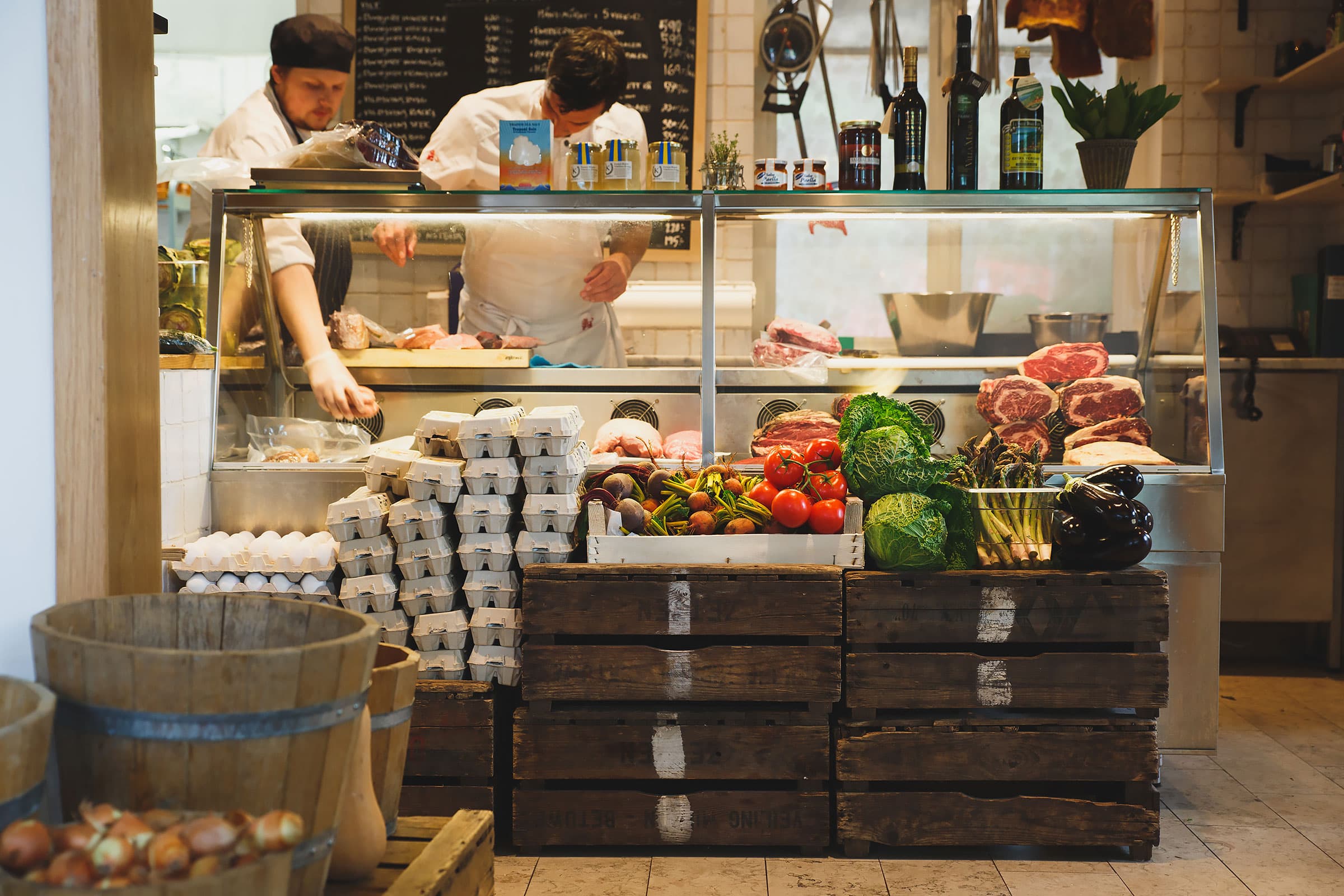 The guide to Stockholm's best specialist food shops
Updated 20 Feb 2019
Picking up your groceries and deli items at personal specialist food shops is totally on trend. These days Stockholm is bursting with butchers, hip artisan sausage makers, fishmongers, chocolatiers, exotic tea shops and other specialist stores. The large indoor food markets have been joined by smaller deli-type stores where you'll find everything from charcuterie to organic vegetables, bread and edible gifts. We've rounded up some of Stockholm's best delicatessens and experts in fine food all over the city.
General
Meat and fowl
Fish and shellfish
Well-established fishmongers who also sell meat
This reliable and well-reputed fishmongers can be found in all the city's covered food markets and on Dalagatan. Apart from fresh seafood specialities you can count on a selection of other delicacies as well as ready meals and even a meat and game section.
Melanders
Choose an option
Purveyors to the royal Swedish court
Serious fish and shellfish veterans who can be found in Östermalm's saluhall food hall. The Elmqvist family have been selling delicacies from the sea in the heart of the food hall since 1926, and they never go out of fashion. The store is now a supplier to the royal court and has its own restaurant.
Nybrogatan 31 (Östermalmshallen), Östermalm
The oldest fishmongers in the city
Stockholm's oldest fishmongers, founded in 1907. Buy your fresh fish and shellfish from selected suppliers, as well as other top notch speciality foods, here, and sort out catering. A historic yet contemporary stop by the waterfront in the Old Town.
Mälartorget 21, Old Town
Cheese and various
Tea
Fine teas sold by weight are almost hotter than coffee these days. At this popular tea shop there are hand-selected teas which both tea experts and novices alike can enjoy. A pretty packet of tea always makes a lovely present too.
Norrtullsgatan 9, Vasastan
Explore different flavours at an authentic tea house
Sweden's first tea house, Chaikhana, stocks around 250 types of tea and they're passionate about the drink. Perfect if you're keen to explore the flavours yourself or give someone an aromatic tin as a present instead of a bottle of wine. Naturally you can buy tea paraphernalia such as teapots here too.
Svartmangatan 23, Old Town
Healthfoods
Paradise for the environmentally conscious
Since Paradiset opened Stockholm has finally got a serious food store focusing on organic groceries, treats and ready meals. You can find almost everything you need here, whatever you're craving.
Paradiset
Choose an option
Inspired by LA and New York, The Green Queen focuses on organic streetfood without any refined sugar. They serve substantial buckwheat wraps and quinoa salads, but also chiapudding, cold-pressed juices, green smoothies as well as coconut ice cream, snacks and raw chocolate.
Norr Mälarstrand 64, Kungsholmen
Chocolate
Chocolatefabriken was founded in 1997 and there are now several branches around Stockholm. The counters here are full of homemade chocolate pralines, sold both by weight and in gift boxes, and you'll find something for all tastes, guaranteed.
Chokladfabriken
Choose an option
Chocolate experts since 1923
Royal court suppliers Ejes make their own chocolate pralines alongside their old-fashioned shop on Gärdet, and their range is extensive. There really is something for all chocolate lovers - from dark chili truffles to white chocolate truffles with coconut. Sold by weight.
Erik Dahlbergsgatan 25, Gärdet