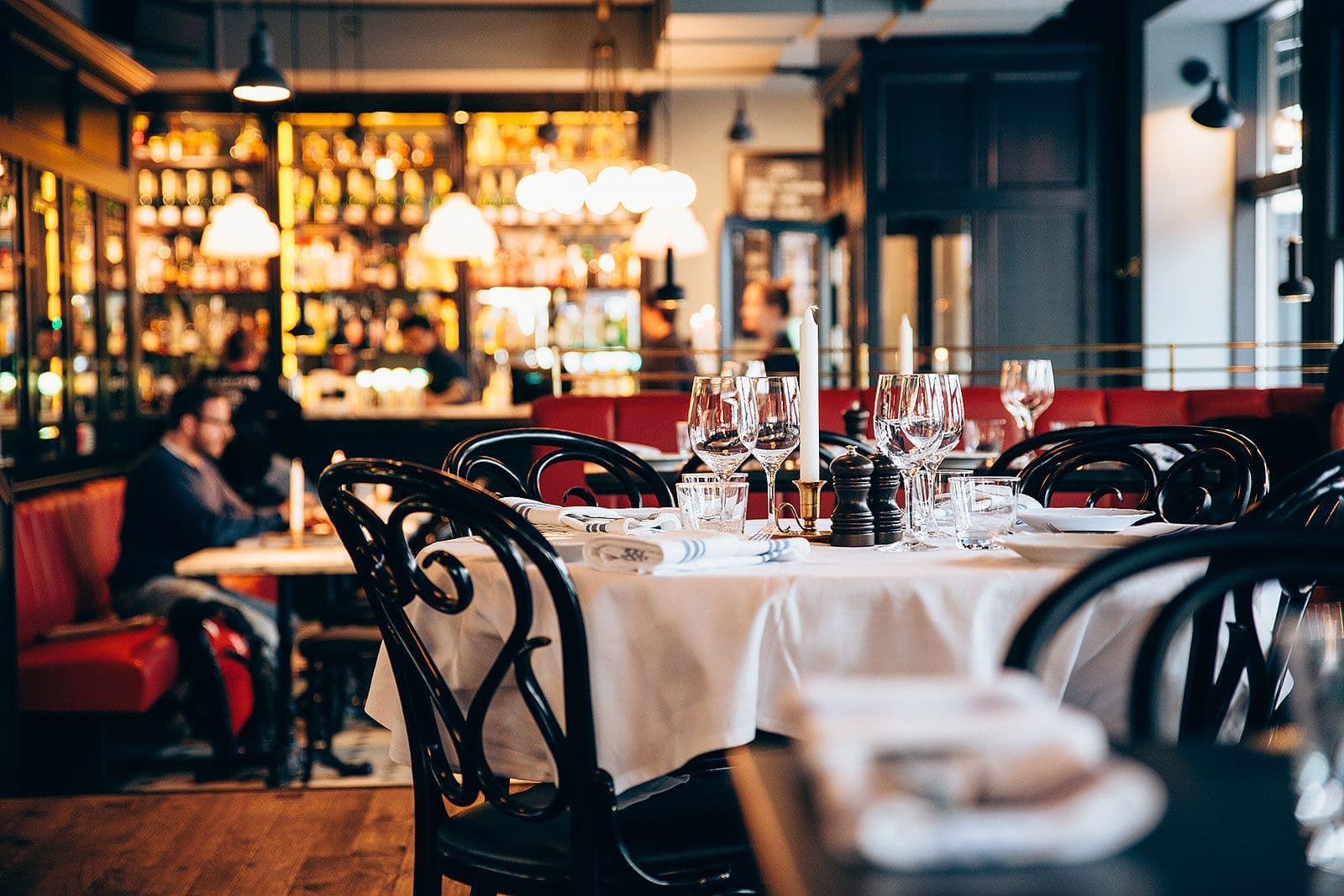 The guide to Stockholm's best neighbourhood restaurants
Updated 7 Oct 2019
Stockholm has masses of great local restaurants where you can hang out and eat dinner in a relaxed setting, preferably in the middle of the week when you can't bear the thought of cooking dinner. A perfect option for anyone who would rather be spontaneous and forget planning and making reservations. In this guide we've rounded up some of Stockholm's best neighbourhood restaurants where you can easily and simply meet up for a bite to eat, whether you're staying locally or travelling right across town.
Aubergine
Linnégatan 38, Östermalm
Local gem since the Nineties
Since 1994 diners have been able to eat well-cooked food at Aubergine in Östermalm. At the crossroads of Linnégatan and Jungfrugatan, a stone's throw from Östermalmstorg, regulars, business lunchers, couples on dates and single diners come together to enjoy well-executed classics with both Swedish and other European flavours.
Nybrogatan 38
Nybrogatan 38, Östermalm
Extensive menu and generous portions
You'll find the neighbourhood restaurant Nybrogatan 38 at the same address. Östermalm residents and other Stockholmers make the pilgrimage here to eat breakfast, lunch and dinner - seven days a week. There's something for everyone on the menu and the portion sizes won't disappoint even the hungriest of diners.
Bistroteket
Bondegatan 54, Södermalm
Brasserie by Nytorget
At Bistroteket, on the eastern side of Södermalm, work colleagues, families, couples and friends come together to eat all the meals of the day. The guys behind this neighbourhood bistro are a duo with a long list of popular restaurants on their CVs and their combined experience has resulted in a welcoming brasserie. Something light, a three course meal, 12 hour slow-cooking or a cocktail - Bistroteket's extensive menu, generous opening hours and a bistro style with elegant French undertones appeal to all.
Paraden
Valhallavägen 147, Östermalm/Gärdet
Neighbourhood restaurant in an old modernist cinema
In an otherwise rather sleepy part of Östermalm you'll find the neighbourhood restaurant Paraden - housed in the building that used to be home to the modernist cinema Paraden on Valhallavägen. The food stretches mainly across Swedish, Italian and French, but influences from other parts of the world also sneak in. There's a welcoming feel to the place and the decor is reminiscent of a cosy sitting room with art deco patterns and a relaxed atmosphere.
Café Facile
Luntmakargatan 99, Vasastan
Authentic French
At Café Facile on Luntmakargatan you get exactly what the name promises - simple, French food. But don't be fooled by the unassuming name - the authentic cooking and intimate atmosphere make this place one of Stockholm's true gems. Choose something like steak frites, boeuf bourguignon or simply the plat du jour from the blackboard, order something delicious to drink and lean back, relax and enjoy the atmosphere - and the great value food.
Knut
Upplandsgatan 17, Norrmalm/City/Vasastan
Norrland in Vasastan
Flatbread pizza, reindeer tartare and cloudberry parfait - can you sense the theme? Yup - at Knut you'll have a dining experience with strong northern Swedish overtones. The concept is all-encompassing but still friendly, authentic and cosy. Thanks to Knut you don't need to travel any further than Tegnérlunden to enjoy food and drink specialities from Norrland.
Kryp In
Timmermansgatan 22, Södermalm
Small dishes from southern Europe
This little neighbourhood restaurant by Mariatorget serves southern European-influenced dishes in a cosy room with wooden panels, wood furniture and timber as decoration. The menu offers ambitious small and medium-sized dishes, among other things, and there's even a little wooden bar you can perch at and have a glass of wine.
Pompei
Odengatan 85, Vasastan
Historic Italian
Pompei, one of Stockholm's oldest Italian restaurants, has been serving Italian classics close to Vasa Park since the Seventies. The menu consists of everything from meat and fish dishes to pasta and pizza, all served in historic surroundings with an unmissable ancient Pompei theme.
Styrelsen
Hantverkargatan 31, Kungsholmen
With a gorgeous courtyard
Chandeliers, stucco ceilings and gilded mirrors - behind an arched entrance in the stone facade on Hantverkargatan lies Styrelsen. The interiors may scream high society but the menu is rather more down to earth, with traditional homecooking style food inspired by southern European food culture. You'll also find a peaceful oasis here in their lushh inner courtyard.
Mäster Anders
Pipersgatan 1, Kungsholmen
A proper brasserie
It's not every restaurant in Stockholm that gets a mention in the encyclopedia, so you'll understand the level of gravitas Mäster Anders has. For decades, centuries even (!), the Kungholmen restaurant has drawn in regulars looking for classic, well-executed dishes. The authentic brasserie decor is the finishing touch with its classic globe pendant ceiling lamps, hexagonal-checked tiled floor, bentwood chairs and arched windows.
Matateljén
Stora Gungans väg 7, Enskede
Charming in Gamla Enskede
Among the charming wooden houses of Gamla Enskede you'll find a welcome and long-await restaurant addition. Inside Matateljén the gang behind the well-loved Svartsö krog cook excellent, mainly vegetarian dishes with a fine twist. You can eat lunch and dinner here from Wednesday to Friday and buy yummy things such as cheeses, oils and charcuterie in their little deli corner to take home with you.
Lux Dag för Dag
Primusgatan 116, Lilla/Stora Essingen
In season by the waterside
Lux Dag för Dag is one of those places right outside the city centre that's worth a little detour. They take seasonal food extremely seriously here and simply let the ingredients and Swedish flavours steer the menu. Jump on the number 1 bus and get off at Lilla Essingen, you know you're there when you find a beautiful old listed brick buiding with a view over Mariebergsfjärden.
Warung
Långholmsgatan 3, Hornstull/Södermalm
Round trip to Indonesia
In the mood for spicy food and exotic cocktails? Then get yourself down to Warung in Hornstull - one of the few restaurants in Stockholm which represents Indonesian cuisine, made with Nordic ingredients. Warung is a small restaurant with just a few tables and bar stools, which creats a calm and casual atmosphere.