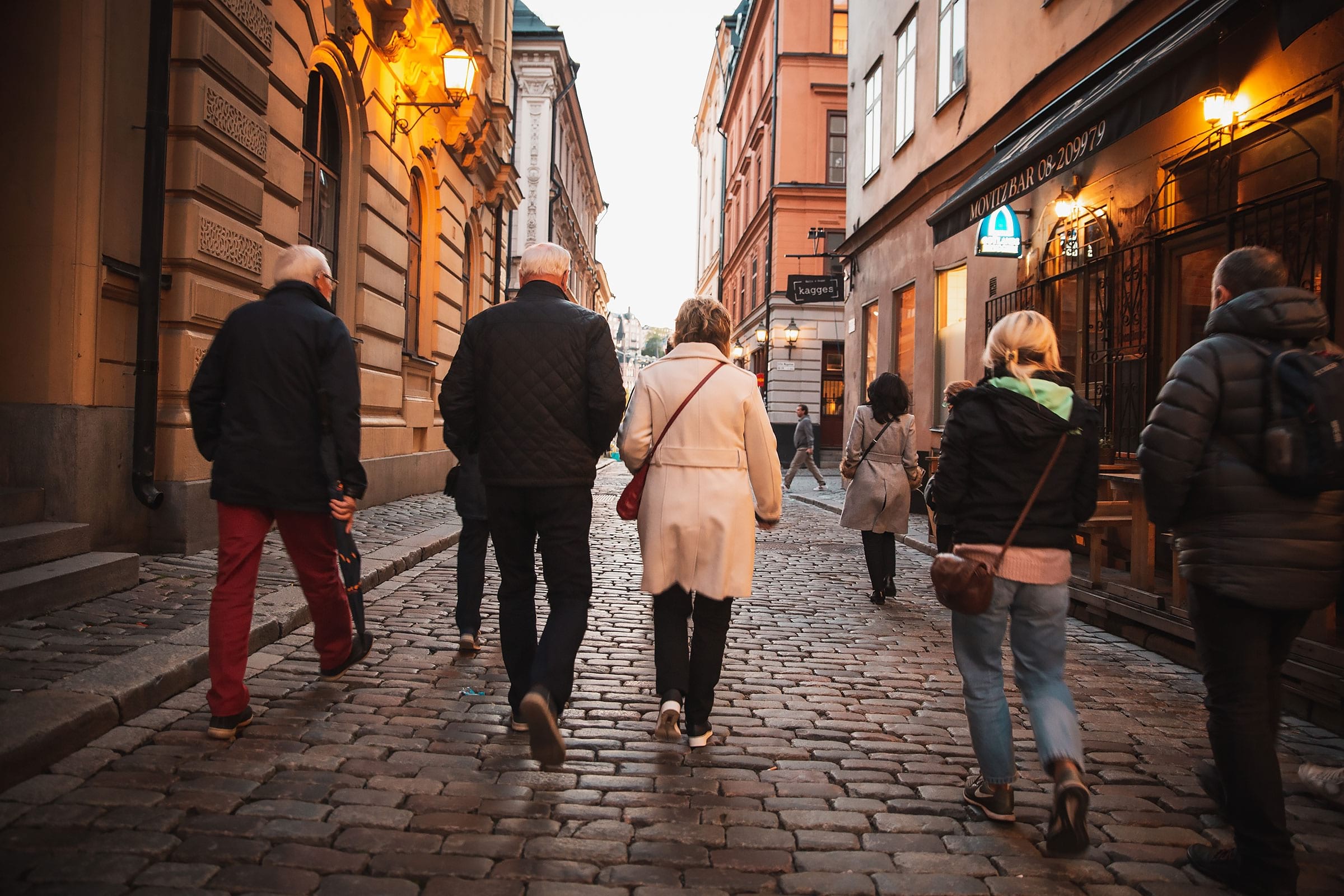 The guide to sightseeing in Stockholm
Updated 18 Aug 2021
Famous sights, historical districts, green parks and hidden gems. Stockholm is perfect for all different kinds of sightseeing tours - whether you're a tourist or a local. Try out boat sightseeing and discover the city from the water, jump on a sightseeing bus or join a guided biking or walking tour and get up close and personal to the city's pulse and secret spots. Tours take in well-known attractions such as the Old Town, Royal Palace, Djurgården and the Vasa museum. In our guide to sightseeing in Stockholm we also include ideas for excursions in the Stockholm archipelago.
Ocean Bus
Fun and good value sightseeing option
Don't be surprised when this sightseeing bus suddenly starts driving down into the water; Ocean Bus is a waterbus which travels on both land and in water. The tour begins and ends outside the Royal Opera and takes you via the Royal Palace, Dramaten theatre, Stureplan and Skansen. Despite the fact that it kills two birds with one stone, Ocean Bus is one of the cheaper sightseeing options.
Price: around 290 SEK
Duration: 75 min
Season: March-December
100 Point Challenge
Svartmangatan 18
, Old Town
City quiz
A different kind of walking tour where you explore the city and put your Stockholm knowledge to the test at the samt time. 100 Point Challenge can be described as a Stockholm quiz on-the-go in which each team tries to be quickest, and get the most correct answers. A fun challenge for both Stockholmers and tourists who want to test their knowledge, and of course show off a little.
Price : Around 375 SEK per person
Duration: 2 hrs
Season: All year
VerdeVerde Travel
Stockholm
, City/Norrmalm
Sustainable city tours
VerdeVerde Travel arranges a wide range of sustainable city walks and guided tours in Stockholm and the surrounding area, ideal for Stockholmers and tourists alike. Discover everything from culturally historic gems to panoramic views and stunning natural surroundings. Activities can be arranged privately and as scheduled tours in small groups.
Strömma
Svensksundsvägen 17
, City
Historic tour company
Boat sightseeing, bus sightseeing, walking tours, excursions and cruises... Round trips, hop-on-hop-off (both boats and buses) and lovely trips out to the archipelago and various castles are all offered by the historic Strömma tour company. Aimed at tourists, Stockholmers and corporate groups.
Price guide: Stockholm Panorama (sightseeing in modern panorama coaches, 1hr 15min) around 300 SEK
Season: All year
Food Tours Stockholm
Culinary adventures
A culinary city tour is the perfect activity for adventurous foodies. Food Tours Stockholm arranges guided walks with different themes, taking guests to selected restaurants, cafés, bars and specialty food stores all over Stockholm. Walks are peppered with tasty food samples and interesting anecdotes.
Stockholm Adventures
Kungsbro strand 21
, Kungsholmen
Adventures in and out of town
Take a guided cycling tour via the Old Town and the Royal Palace and discover well-known sights and hidden gems, paddle around the city, see the rooftops from a helicopter or leave the bright lights of the big city and join a sailing tour among the islands and skerries of the Stockholm archipelago. Or why not go on a wildlife safari? A whole range of really great adventures both in town and out in the archipelago.
Price guide: Guided cycling tour in English (2 hrs) around 490 SEK
Season: Cycling tours April-October
Red Sightseeing
Sightseeing by boat and bus
Red Sightseeing offers hop-on-hop-off tours by both boat and bus with onboard wi-fi. They have a special boat tour that takes you along Stockholm's canals and under her bridges, an extra picturesque option for anyone looking to enjoy summer Stockholm from the water. If you want to travel without any time restrictions, their combination tickets are valid for 24 or 72 hours.
Price guide: Bus + boat (2,5 hrs) around 450 SEK
Season: Boat tours April-September, bus tours all year round
Stadsmuseet
Ryssgården, Slussen
, Södermalm
From the middle ages to the Millennium trilogy
Stockholm City Museum and Stockholms medeltidsmuseum arrange masses of walking tours for people of all ages, in both Swedish and English. Amongst others there's the popular Millennium walking tour, taking you around Södermalm in the footsteps of Lisbeth Salander (in English), as well as middle ages walks, architecture walks and many more.
Price: Stieg Larssons Millennium tour around 130 SEK, others around 100 SEK
Season: All year
Rent a Bike
All kitted out for a cycling tour
Bike hire with a prime position right on Strandvägen. You'll get advice on choosing the right bike for you as well as being kitted out with a map and helmet, and they can also provide suggestions for various biking tours if you're unsure. Guided tours can also be arranged.
Price guide: City bike 24 hrs around 300 SEK, deposit around 3 000 SEK
Season: May-September
Stockholm Scooter Tours
See the city from a scooter
Stockholm Scooter Tours arranges guided tours on electric scooter during the summer months, allowing you to learn more about the city's history in a fun way. Swedish fika is included. The tours are in English and around two and half hours long.
Price: around 400 SEK including electric scooter, helmet, rain poncho (if needed), Swedish fika and admission to Långholmen museum
Season: summer