The guide to classic restaurants in Stockholm
Stockholm's restaurant scene is fit to burst with hip and trendy concepts. Therefore, it is particularly exciting to return to the classics - the most prestigious restaurants in Stockholm, that exude timeless elegance and tradition. We have sought out the absolute gems in an attempt to guide you to the best classic restaurants in Stockholm - with at least 25 years under their belt. Expect vaulted cellars dating back to the 1600s, bistros that have attracted the cultural elite for over a 100 years and retro-chic diners to name a few.

You may also like:
- Romantic restaurants: The Guide to Romantic Restaurants in Stockholm
- Swedish restaurants: The Best Swedish Restaurants in Stockholm
- French restaurants: The Best French Restaurants in Stockholm
- Fine dining: The Guide to Fine Dining in Stockholm
- Cozy restaurants: The Guide to Cozy Restaurants in Stockholm
- Wow factor restaurants: Guide to Wow Factor Restaurants in Stockholm
Konstnärsbaren: Old-school hangout
Konstnärsbaren looks pretty much the same as it did when it first opened in 1931. Since then it has become the watering hole of choice for famous artists and actors - hence the name. The menu consists of well-prepared, traditional Swedish dishes.
More information: Konstnärsbaren (KB), Smålandsgatan 7, Östermalm
Grodan: A popular hangout
Grodan (which means 'frog' in Swedish) opened in 1985 and has a decidedly French air. The original name - La Grenouille was quickly shorted, and the vernacular adopted. The same restaurateurs run the place today; a true accomplishment after 30 years. The premises are divided into different sections, each with a remastered interior, including the distinctive stucco and black leather sofas. The restaurant's outdoor bar and seating area is often frequented by locals.
More information: Grodan, Grev Turegatan 16, Östermalm


Grodan
Villa Godthem: Picturesque charm from the 1800's
The villa was build in 1897 and its former glory is well preserved with meticulous attention to detail. The beautiful garden with views over the canal perfectly captures the essence of the place. Since the 1950's a traditional Swedish menu, with a contemporary twist has been served - such as meatballs and Wallenbergare.
More information: Villa Godthem, Rosendalsvägen 9, Djurgården
Tennstopet: Steeped in history
Tennstopet's longstanding relationship with the city - it opened in 1867 - is reflected in both the decor and the traditional homemade cuisine. It is an obvious meeting point for locals, as well as artists, writers and musicians who frequent the place to socialise, eat and drink.
More information: Tennstopet, Dalagatan 50, Vasastan

Tennstopet
Tranan: Since 1929
The red-checked tablecloths are synonymous with this crowded, bustling restaurant. Much of the original decor has remained intact since its conception in 1929. Traditional dishes such as butter-fried herring with mashed potatoes are served - just like in the good ol' days.
More information: Tranan, Karlbergsvägen 14, Vasastan
Sturehof: Sophisticated seafood
Sturehof has served seafood for over a century and is still a popular destination among tourists and locals alike. Despite a facelift, the heavily influenced Scandinavian decor perfectly compliments the original detailing. The bar and large outdoor seating area is the ultimate spot for people-watching.
More information: Sturehof, Stureplan 2, Östermalm
Riche: Contempary elegance
The distinctly Parisian setting is hardly news - this veteran has been around for over 100 years. Riche has established somewhat of a cult following and preserves its legacy by offering signature dishes such as Toast Skagan and Biff Rydberg. Providing a classic fusion between French and Swedish cuisines.
More information: Riche, Birger Jarlsgatan 4, Östermalm
Cassi: French retro
Forget turn of the century opulence - this popular retro-style neighbourhood hangout sticks to its guns with self-service and plastic trays. Hop on a time machine to the groovy 70's when orange-carpeted floors and pea-green wallpaper were all the range. The steak minute with béarnaise and French fries is a real showstopper.
More information: Restaurant Cassi, Narvavägen 30, Östermalm
Pelikan: A piece of history
This famous beer hall is one of the oldest in the city, founded in 1660 was originally located in Gamla Stan. Pelikan is still a popular watering hole serving traditional homemade Swedish dishes and an abundance of beer.
More information: Pelikan, Blekingegatan 40, Södermalm
Prinsen: A distinguished classic
Prinsen has preserved its distinct turn-of-the-century air. This distinguished haunt has catered to Stockholm's cultural elite since 1897. The menu features classic French and Swedish cuisine.
More information: Prinsen, Mäster Samuelsgatan 4, Östermalm
Den Gyldene Freden: A local favourite since 1722
This is possibly one of the most historic taverns in the city with regulars such as Bellman, Taube and Zorn - their legacy etched into the walls. The kitchen serves traditional Swedish fare with a modern twist.
More information: Den Gyldene Freden, Österlånggatan 51, Gamla Stan

Den Gyldene Freden

Gondolen: Sky high
With breathtaking views over Stockholm and its waterfront, Eriks Gondolen is perhaps one of the city's most iconic restaurants serving classic dishes with an elegant touch. The restaurant is located 33 meters above ground and was inaugurated by the then king in 1935.
More information: Eriks Gondolen, Stadsgården 6, Södermalm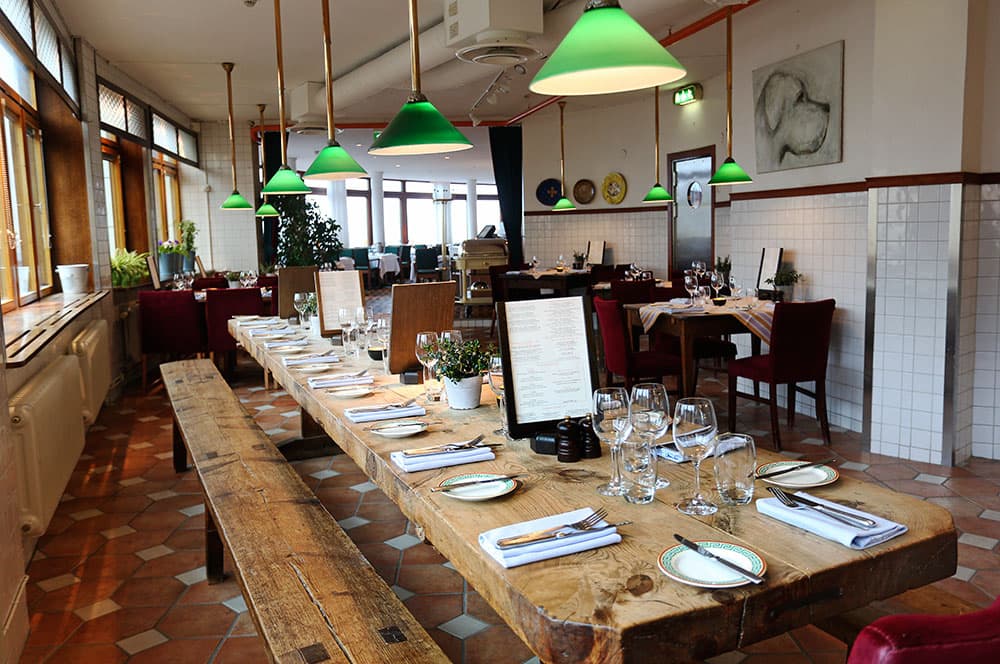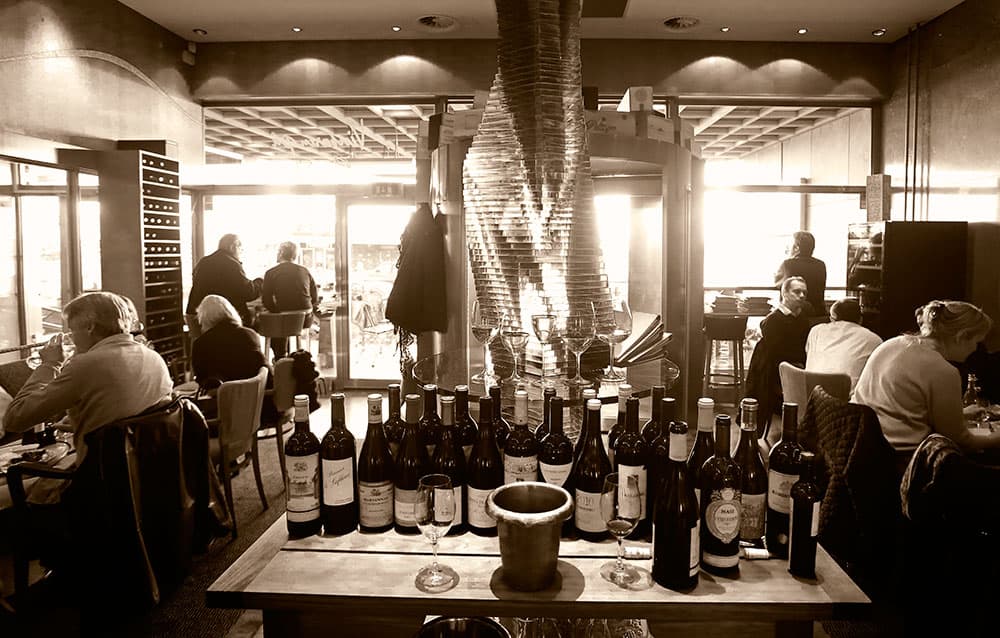 Gondolen

Kvarnen: A genuine beer hall
Kvarnen, from 1908 is one of Stockholm's oldest beer halls, complete with checkered floors, intimate booths and brass lamps. Traditional Swedish fare such as meatballs, herring and black pudding is served along with bountiful amounts of beer.
More information: Kvarnen, Tjärhovsgatan 4, Södermalm

Kvarnen

Nalen: Food & music
Built in 1888, Nalen was an integral part of Stockholm's nightlife between the 30's and 70's and its legacy remains to this day. Nalen combines organic, locally sourced produce with music concerts creating an exciting cultural experience.
More information: Nalen Restaurang, Regeringsgatan 74, City

Nalen
Rolfs Kök: Sleek sophistication
Regulars have been pouring into this modern classic since the late 80's. Rolfs Kök, now run by the same restaurateurs as Restaurang AG, blends contemporary functionality with timeless elegance - apparent in everything, from the decor to the menu.
More information: Rolfs Kök, Tegnérgatan 41, City/Vasastan

Rolfs Kök

Operakällaren: The epitome of glamour
The Royal Opera House is a listed property and its famous restaurant is adorned with original murals, golden panelling and impressive chandeliers juxtaposing the modern furniture. The balance between the old and new creates a truly unique dining experience.
More information: Operakällaren, Karl XII:s torg, City
Fem Små Hus: Over 400 years of history
The historic vaults of Fem Små Hus in Gamla Stan appear to have been frozen in time. The arched brick walls, heavy drapes and flickering candles set the scene perfectly. A traditional cuisine is served and one of the dishes is named after a woman who ran the restaurant during the 1600's.
More information: Fem Små Hus, Nygränd 10, Gamla Stan

Fem Små Hus

Wasahof: Music and seafood
Around the turn of the century, before Vasastan existed this tavern was in the outskirts of the city where the rich sought refuge. Today oysters, seafood plateaus and other French-inspired bistro dishes are served to a wide and devoted audience. Wasahof regularly hosts opera and jazz nights.
More information: Wasahof, Dalagatan 46, Vasastan
Ulla Winbladh: In scenic Djurgården
This institution, located in picturesque Djurgården Park, is named after the troubadour Bellman's muse. Not much has changed since then - the kitchen serves traditional homemade fare and the outdoor terrace is the ultimate people-watching spot.
More information: Ulla Winbladh, Rosendalsvägen 8, Djurgården
Wedholms Fisk: Award-winning seafood restaurant
Bengt Wedholm opened this classic fish restaurant in 1985. Apart from acclaimed seafood dishes the restaurant's dedication to the arts is apparent – paintings by famous Swedish artists adorn the walls.
More information: Wedholms Fisk, Nybrokajen 17, City
Mårten Trotzig: For festive occasions
This luxury restaurant, which dates back to the Middle Ages, is complete with brick walls and vaulted ceilings – elegant, yet rustic. The menu exudes tradition, combining Swedish and international flavours.
More information: Mårten Trotzig, Västerlånggatan 79, Gamla Stan
You may also like:
- French restaurants: The Best French Restaurants in Stockholm
- Romantic restaurants: The Guide to Romantic Restaurants in Stockholm
- Swedish restaurants: The Best Swedish Restaurants in Stockholm
- Best restaurants: The Complete Guide to the Best Restaurants in Stockholm
- Cozy restaurants: The Guide to Cozy Restaurants in Stockholm
- Italian restaurants: The Best Italian Restaurants in Stockholm
- Fine dining: The Guide to Fine Dining in Stockholm
- Meat restaurants: The Best Meat Restaurants in Stockholm
- Wow factor restaurants: Guide to Wow Factor Restaurants in Stockholm
About the guide to classic restaurants in Stockholm
Our guide to the best classic restaurants in Stockholm is updated continuously. If you know of a great classic restaurant in Stockholm that we have not featured in our guide please leave a note in the comments section below. Feel free to email us at hello@thatsup.se if you feel that we should add a classic restaurant in Stockholm to our guide. Please let us know if you see any mistakes in our guide to classic restaurants in Stockholm. Otherwise enjoy your visit to restaurant of your choice.
Related articles: