The best French restaurants in Stockholm
If you're in the mood for French food, you don't have to travel to Paris for an outstanding meal. Elegant, rustic and exquisite — French cuisine both intimidates and inspires diners around the world. Stockholm boasts an abundance of excellent French restaurants ranging from quaint cubbyholes to impressive bistros. Choose between traditional cuisine and fine dining with a bit of ooh la la - our guide to the best French restaurants in Stockholm should do the trick. Bon Appétit!
You may also like:
- Romantic restaurants: The Guide to Romantic Restaurants in Stockholm
- Classic restaurants: The Guide to Classic Restaurants in Stockholm
- Italian restaurants: The Best Italian Restaurants in Stockholm
Brasserie Bobonne: A distinct Parisian air
Brasserie Bobonne pays tribute to its charming French heritage. This classic brasserie presents seasonal fare on a chalkboard menu that is updated bi-weekly. The open kitchen and sophisticated decor enhances the intimate ambiance.
More information: Brasserie Bobonne, Storgatan 12, Östermalm

Brasserie Bobonne
Bistro Bon: Paris goes NYC
Bistro Bon fuses chic NYC-meets-Paris vibes. White subway tiling and wooden accents sets the tone. French favourites such as moules frites, seafood platters and a mean wagu-beef burger with Gruyere cheese are served. Their infamous brunch is sure to cure your weekend-blues.
More information: Bistro Bon, Renstiernasgatan 30, Södermalm


Bistro Bon
Delikatessen Bistro Bar: Bohemian French flair
Delikatessen exudes boho-chic Parisian vibes. This charming refurbished firehouse complete with vaulted windows and high ceilings offers genuine French cuisine. Rustic dishes compliment the extensive wine list. Bar Hommage next door is perfect for post-dinner drinks.
More information: Delikatessen Bistro Bar, Krukmakargatan 22, Södermalm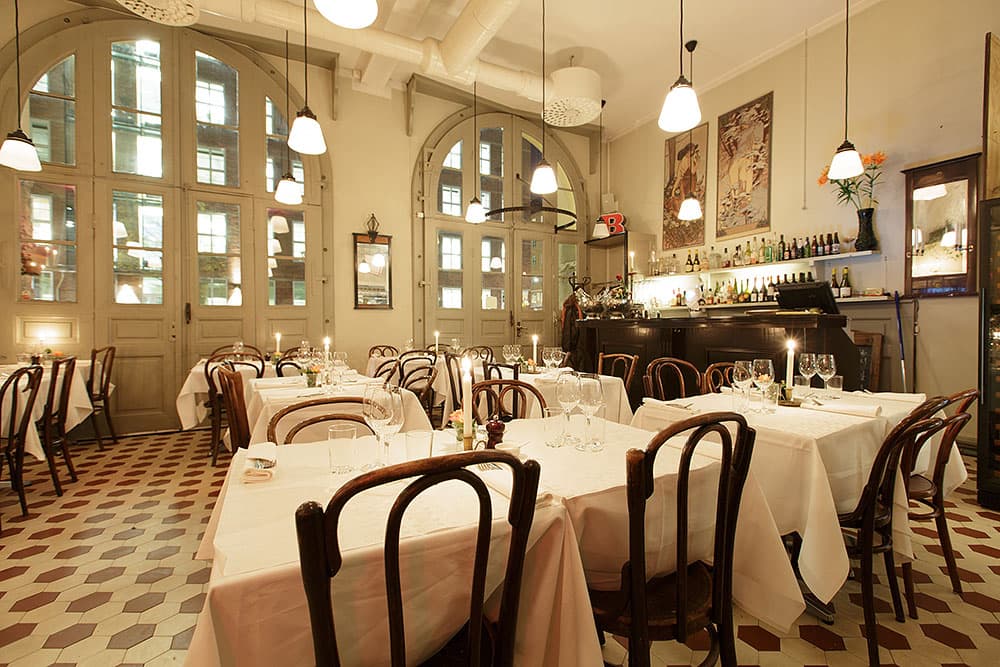 Delikatessen Bistro Bar
À la Crêpe: Sweet or savoury
This romantic little creperie personifies French charm. Quaint À la Crêpe offers a reasonably priced menu featuring savoury buckwheat pancakes and saccharine crepes. The unpretentious ambiance makes it ideal for date-night.
More information: À la Crêpe, Katarina Bangatan 42, Södermalm

À la Crêpe
Bistro Ruby: Rustic City-of-lights-vibes
Bistro Ruby is evidence that Gamla Stan is not merely a tourist attraction. Red walls and dimmed lighting sets the tone at Bistro Ruby, which has been a popular melting pot since the 80's. The tavern offers classic plat du jours to compliment the extensive wine menu.
More information: Bistro Ruby, Österlånggatan 14, Gamla Stan

Bistro Ruby
Duvel Café: Seafood and mussels
Despite its rather dreary exterior, charming Duvel Café is a real hidden gem. Famous for its immaculately stylish interior with blue wood-panelled walls, leather chairs and brass fittings and fragrant French cuisine. The menu specialises in seafood, particularly mussels. Why not grab a drink next door at Pressklubben whilst you're at it.
More information: Duvel Café, Vasagatan 50, City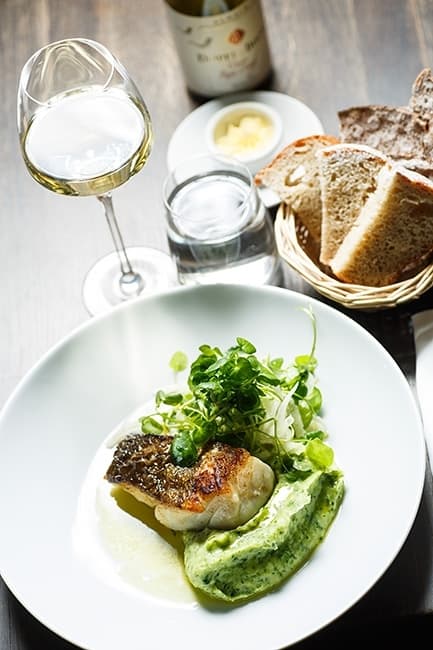 Duvel Café
Pastis: A genuine Frenchie
This quaint, highly ambitious cubbyhole is hidden amongst the cobblestone alleyways in Gamla Stan. Considered to be one of the best French restaurants in the city. The classic, seasonal bistro menu and fine assortment of wine appeals to sommeliers from all over town. Candlelight sets the tone for romantic intimacy.
More information: Pastis, Baggensgatan 12, Gamla Stan
Naturligtvis: Farm-to-table
This gourmet restaurant's dedication to local, sustainable and organic produce makes it a popular alternative. French-Swedish influences are blended to create rustic, aromatic flavours. White-tiled walls and open kitchen creates a relaxed and warm atmosphere. Feeling ambitious? Book a culinary course whilst you're at it.
More information: Restaurang Naturligtvis, Kommendörsgatan 23, Östermalm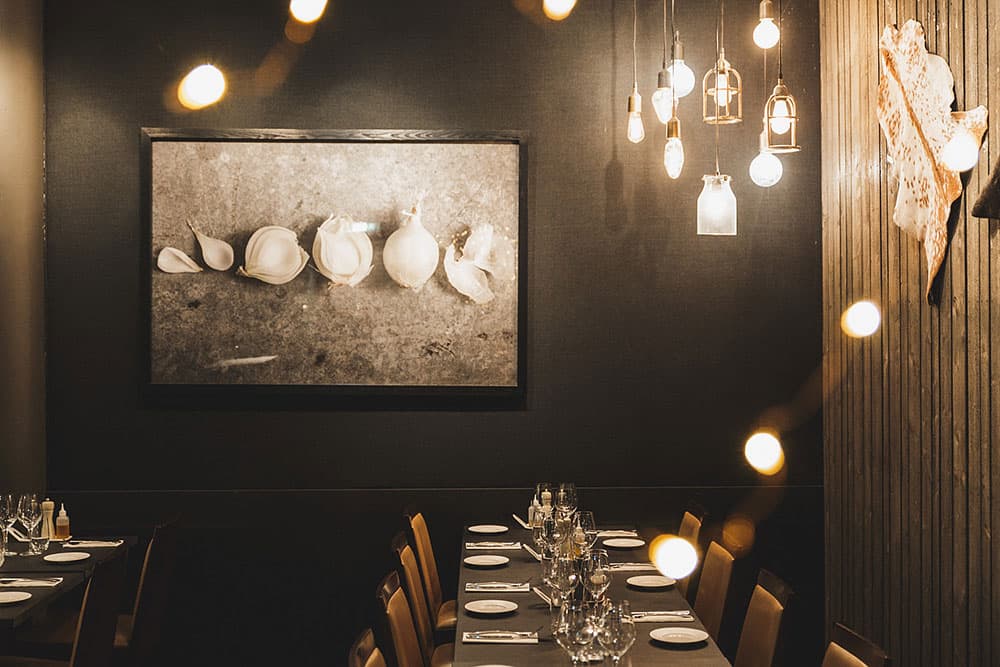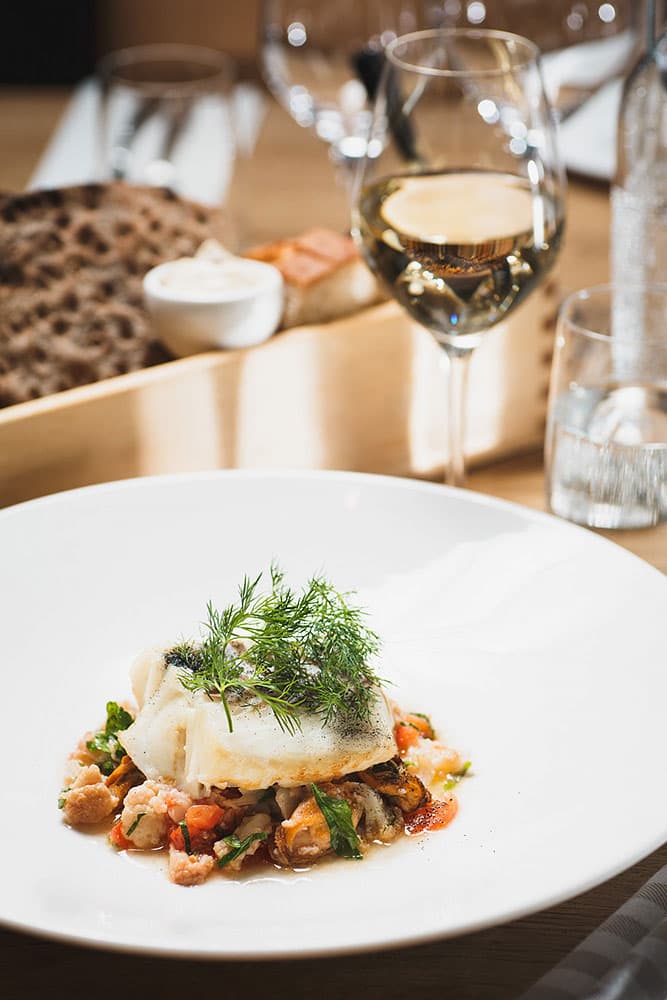 Restaurang Naturligtvis
Häktet: Captivating - quite literally
This refurnished 18th century prison houses a French-style restaurant and three different bars. The menu features rustic dishes with a modern twist as well as oysters and charcuteries. Make a night out of it - enlist the help of the talented bartenders and acquaint yourself with Häket's experimental cocktail menu.
More information: Häktet, Hornsgatan 82, Södermalm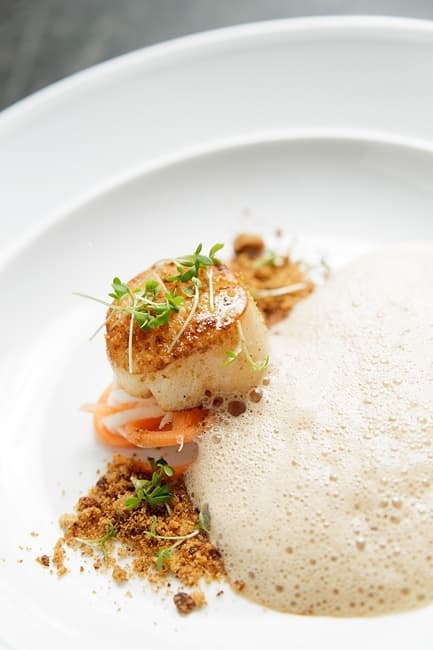 Häktet
Mister French: Continental luxury
Mister French has transformed the historic customs house in Gamla Stan into a modern brasserie blending 1920's Parisian vibes with Great Gatsby glamour. The menu offers a seasonal mix of seafood and char-grilled meat. The outdoor terrace is a popular watering hole during summer months.
More information: Mister French, Tullhus 2, Skeppsbrokajen, Gamla Stan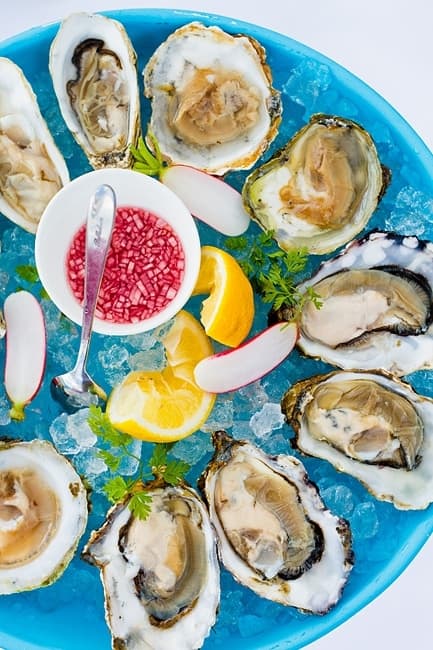 Mister French
Le Rouge: Moulin Rouge-vibes
Le Rouge makes for a unique experience, paying tribute to turn-of-the-century Parisian glamour with rich red velvet wall-coverings and brass detailing. With emphasis on local produce and sustainable practices the menu specialises in entrecote and salmon in various guises.
More information: Le Rouge, Brunnsgränd 2-4, Gamla Stan
Byn: Crêpes and galettes
This popular neighbourhood crêperie is reminiscent of the French countryside; this theme is reflected in both the decor and menu. The reasonably priced menu features delectable crêpes and savoury buckwheat galettes as well as artisanal cider. The intimate space fills up quickly so be sure to book in advance.
More information: Byn Crêperie & Ciderie, Rödabergsgatan 11, Vasastan
Brasserie Godot: Classic with a contemporary twist
This sophisticated French brasserie fuses modern sensibilities with a classic French ambiance. The chic interior is punctuated by leather detailing. Well-prepared food, knowledgeable sommeliers and extensive wine menu enhance the experience.
More information: Brasserie Godot, Grev Turegatan 36, Östermalm

La Dame Noire: Inspired by van Gogh
Inspired by van Gogh's favourite bar, La Dame Noire offers relaxed City of Light's vibes. The restaurant's stylistic influences are a metropolitan mix of NYC and Paris. The genuinely French menu features escargot, moules and boeuf bourguignon.
More information: La Dame Noire, Scheelegatan 3, Kungsholmen
Napolyon: Modern bistro with a French air
This charming neighbourhood restaurant is a modern take on a classic French bistro. Hearty homemade food is made from the finest ingredients, the menu features garlicky moules frites and plats du jours. The relaxed ambiance appeals to a wide audience.
More information: Napolyon Bistro & Bar, Grev Turegatan 15, Östermalm
Grand Escalier: French elegance
Grand Escalier boasts of counters with generous offerings of seafood, piquant cheese and charcuteries. The restaurant oozes French sophistication with a modern touch. The outdoor terrace and unique vinothequet with over 50 different types of wine are popular alternatives after hours.
More information: Grand Escalier Brasserie & Jardin, Humlegårdsgatan 17, Östermalm
Zink Grill: Genuinely French
Zink is reminiscent of a 20's style French bistro. The restaurant is open from early morning to late night and caters to a hungry bunch of shoppers, businessmen and locals alike. Fancy a classic petit déjeuner, hefty burger or char-grilled steak? In that case you've come to the right place.
More information: Zink Grill, Biblioteksgatan 5, Östermalm
Vau De Ville: A metropolitan mix
A conservatory-style building in the middle of Norrmalmstorg houses Vau De Ville. This popular melting pot is ideal for French-fragrant food, artisanal cocktails and a dose of people watching. The sun-drenched patio is a welcome addition during summer months.
More information: Vau De Ville, Norrmalmstorg, City
You may also like:
- Romantic restaurants: The Guide to Romantic Restaurants in Stockholm
- Tapas restaurants: The Best Tapas Restaurants in Stockholm
- Classic restaurants: The Guide to Classic Restaurants in Stockholm
- Swedish restaurants: The Best Swedish Restaurants in Stockholm
- Italian restaurants: The Best Italian Restaurants in Stockholm
- Best restaurants: The Complete Guide to the Best Restaurants in Stockholm
- Fine dining: The Guide to Fine Dining in Stockholm
About the guide to the best French restaurants in Stockholm
Our guide to the best French restaurants in Stockholm is updated continuously. If you know of a great French restaurant in Stockholm that we have not featured in our guide please leave a note in the comments section below. Feel free to email us at hello@thatsup.se if you feel that we should add a French restaurant in Stockholm to our guide. Please let us know if you see any mistakes in our guide to the best French restaurants in Stockholm.
Related articles: