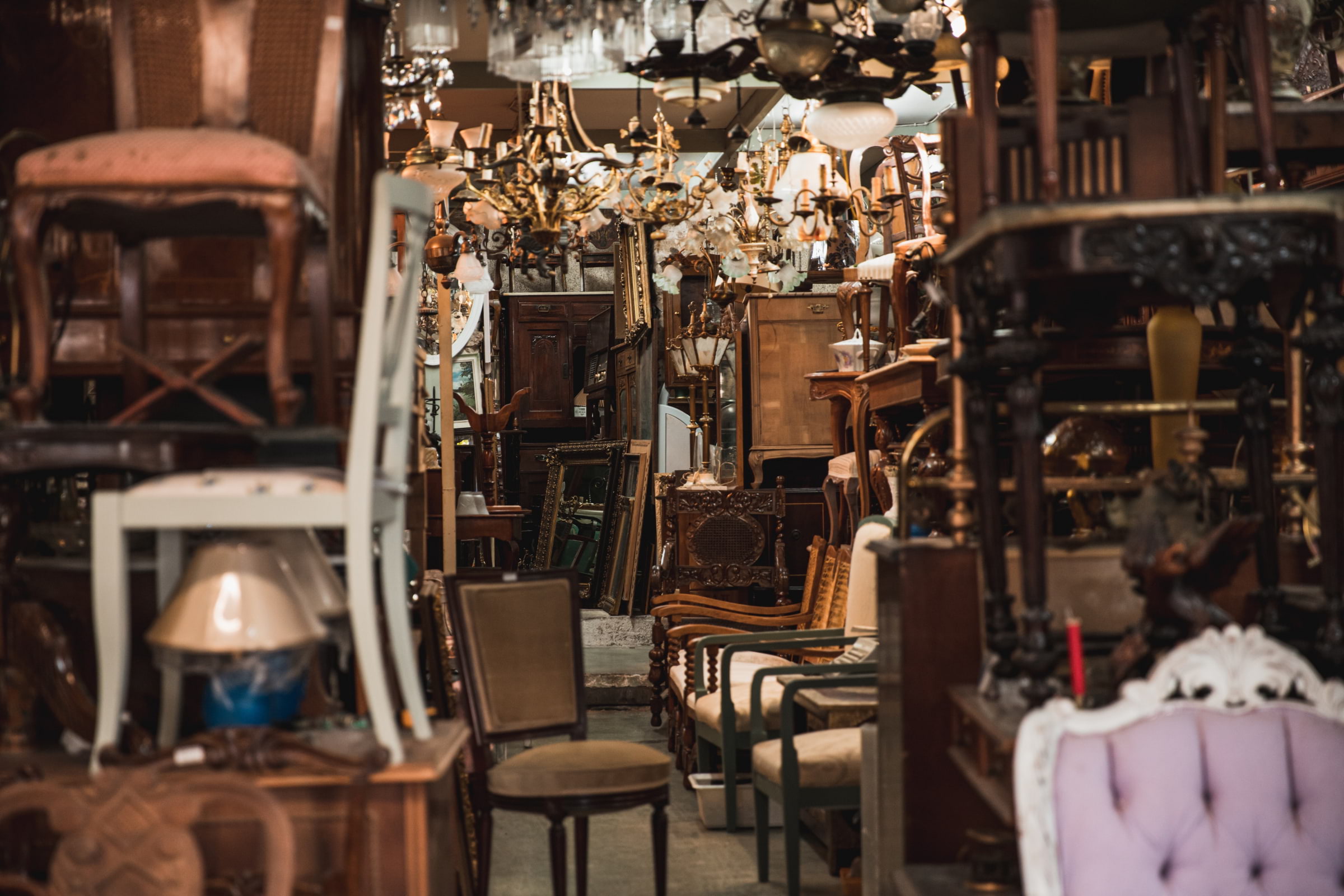 Stockholm's best antique shops
Updated 12 Dec 2019
Stockholm is chocablock with antique shops and retro stores. As more and more people strive for a more sustainable lifestyle, vintage interiors with an emphasis on timeless design, form and function have become a trendy and timely alternative to mass produced and brand new furniture and objects. Add a personal touch to your home with antiques and second-hand items from a charmingly kitsch bric-a-brac shop. To make your hunt for antique furniture easier we've put together this guide to Stockholm's best antique shops, in which we recommend vintage stores and the best shopping areas.
Antique shopping in Vasastan
Super second-hand shops
Roslagsgatan is a popular spot for treasure seekers hunting for second-hand finds. The street is home to numerous retro shops and hidden cellars with everything from industrial furniture to classic second-hand items. Various styles and generally fairly wallet-friendly.
Upplandsgatan
2 addresses
Fifties/Sixties retro style
Upplandsgatan is well known as one of Stockholm's best streets for vintage interiors shopping. You'll find everything from classic antique furniture to Fifties and Sixties modernism and fine porcelain. Bacchus Antik is one of the city's best reputed antique dealers and sells Jugend pieces, beautiful furniture and lamps from the Fifties and Sixties. Domino Antik stocks a high quality, varied range of design items from the 1850s to the 1970s.
Odengatan between Dalagatan and St Eriksgatan
Granny-style kitsch
Take a stroll along Vasa park on Odengatan. This short stretch is packed with charming little shops packed with antiques and kitschy interior details. You'll find everything from beautiful crystal chandeliers and lamps to paintings. If you're looking for old-school china you'll find masses of vintage tea cups and pots - mix and match the pretty patterns and motifs.
Antique shopping on Kungsholmen
Around Fridhemsplan
Fridhemsgatan 64
, Kungsholmen
Hand-picked handcrafts and vintage bargains
On Fridhemsgatan you'll find the concept store Swedish Nature Collaborations, where vintage, handcrafts and design are all gathered under one roof. Bodil Vintage is one of the collaborators, selling vintage and second-hand interiors and clothes. Perfect for anyone who hasn't got time to go searching for a needle in a haystack: everything here is curated and stylish.
Swedish Nature Collaborations
Antique shopping on Östermalm
Östermalm
Almlöfsgatan 3
, Östermalm
Several streets of classic elegance
Around the smart streets of Östermalm you'll find several different stores selling antiques, second-hand and vintage items. Gamla Lampor means 'old lamps' and it's not hard to guess what this particular store sells. In the market for an Art Deco lamp or rare Sixties find? Then this is the place to come, but they also sell other items of furniture from the Thirties on. If you want to add to your collected of heirloom china or add a personal touch to your table setting we recommend a visit to À la Carte Antik. Sibyllegatan is also home to a number of antique shops.
Antique and vintage shopping in Södermalm and the southern suburbs
Brandstationen
Hornsgatan 64
, Södermalm
Trendy vintage dream
The style-conscious Brandstationen sells extremely high quality vintage furniture, as well as antique interiors pieces, lamps and lots of plants in a trendy mix. The store looks as though its stepped straight from the pages of an interiors magazine and is a mecca of inspiration for anyone interested in design. Don't expect any budget second-hand bargains.
Återvinnarna
Götgatan 105
, Södermalm/Skanstull
300 square metres of second hand
Återvinnarna is a non-profit organisation which gives unemployed people and recovering addicts a second chance. The vast store is packed with furniture, brick-a-brac, household items and lamps and paintings. They accept donations and you can haggle over the prices. Well worth a rummage through.
Svenska Armaturer
Svandammsvägen 8
, Hägersten-Liljeholmen
Antique industrial lighting
On the hunt for stylish vintage industrial lamps or trendy retro armatures? If so, you need to take a trip out to Midsommarkransen. You can find rare items such as hand-blown glass pendants by Hans-Agne Jakobsson from the Fifties as well as top quality, newly-renovated lamps. Not cheap, but definitely good value.
På andra våningen
Svandammsvägen 15
, Hägersten-Liljeholmen
For design lovers
You'll find this På andra våningen in the heart of Midsommarkransen, selling hand-picked interiors from well known designers, particularly from the middle of the 20th century. They also stock selected vintage clothing and accessories from classic fashion houses.
MJ Retro
Hornsgatan 153
, Södermalm/Hornstull
Records and retro objects
MJ Retro in Hornstull is a real treasure trove for record collectors and anyone on the hunt for retro objects and modern design. Delve into their selection of iconic LPs, furniture, china and other goodies.
Antikboden
Störtloppsvägen 27-29
, Hägersten-Liljeholmen
Treasure chest in Västertorp
Since 1995, antique and vintage treasure hunters have been heading to Västertorp south of Stockholm to visit Antikboden, a little store filled to the brim with retro interiors and textiles. Get your mitts on everything from design furniture to vinyl and vintage clothing.
Floras Retro
Emågatan 88
Full focus on retro
Floras Retro in Bagarmossen sells furniture and interiors details. As the name suggests, the emphasis is on all things retro, particularly from the Forties to Sixties. Floras Retro is the place to go for sustainable, personal interiors and mid 20th century design.
Tid & Rum
Hjälmarsvägen 33
, Årsta
Extensive retro selection
Tid & Rum in Årsta also sells furniture and interiors details from the mid 20th century. Browse among everything from characteristic teak furniture to cutlery and retro china.
Fruängens Retro
Eva Bonniersgata 5
Retro on the red metro line
Fruängens Retro sells masses of interiors from the Fifties - retro fans will find plenty to choose from. Everything from kitchen furniture and cupboards to lamps, ceramics and other things for the home.
Charity shops
Myrorna & Stadsmissionen
5 addresses
Hidden treasure
Some of the city's charity shops are serious vintage treasure chests for anyone who has the time and energy to rummage through them. Myrorna Ropsten is one such charity shop. As well as furniture, they have a wide selection of porcelain as well as bargain household items and there are several branches throughout the city, including one at Adolf Fredrik Kyrkogata. The same goes for Stadsmissionen - but one which really stands out is their branch in Sätra. They specialise in interiors - anyone for textiles at 39 SEK per kilo?
Myrorna Adolf Fredrik Kyrkogata
Myrorna & Stadsmissionen
Bonus tip
Antiques online
Browse and bid from home
Check out Barnebys - you'll find everything on sale at various auction houses gathered together on one website. They sell everything from furniture and art to jewellery and clothes, and the prices are just as varied - you'll find bargains as well as heirloom pieces. Otherwise, Bukowskis Market is a great option for anyone looking for timeless design classics for relatively low prices.