Restaurants in Stockholm with amazing hamburgers
The recent gourmet burger trend has changed the perception of hamburgers, no longer a greasy fast food option, Stockholm boasts a plethora of, not only burger joints, but also restaurants serving this classic favourite. No longer a rariety in ambitious restaurants, the offering includes traditional cheeseburgers, sliders and brunch burgers with wagyu beef, truffles and piquant Gruyère. So as to narrow down your choices we have created this guide to restaurants in Stockholm that serve the best hamburgers. Looking for an authentic burger joint rather than restaurant? Check out our guide to hamburger joints instead.
You may also like:
- Hamburger joints: The Best Hamburger Joints in Stockholm
- American restaurants: The Best American Restaurants in Stockholm
- Family-friendly restaurants: The Guide to Family-Friendly Restaurants in Stockholm
- Beer halls: The Best Beer Bars in Stockholm
Mister French: Burger with a view
Mister French does not only have some of the best views in the city, it also serves an exceptionally tasty organic beef brisket burger with truffle aioli and savoury sides.
Price: About 215 SEK
More information: Mr. French, Skeppsbrokajen, Gamla Stan

Mister French
AG: Premium-quality burgers
AG is considered one of the best meat restaurants in the city - naturally burgers are also part of their culinary repertoire. Chef Johan Jureskog has created his own gourmet version of this fast food classic. The venue's industrial past is reflected in the minimalistic decor complete with a large fridge where meat is tenderised.
Price: About 205/225 SEK
More information: Restaurang AG, Kronobergsgatan 37, Kungsholmen
Oljebaren: Genuine homemade burgers
This neighbourhood restaurant serves high-quality burgers with grilled Gruyere cheese, freshly baked buns and homemade bacon and fries, as well as coleslaw and other trimmings. The quaint, rustic interior enhances the experience.
Price: About 189 SEK
More information: Oljebaren, Torsgatan 48 B, Vasastan
Bistro Bon: Gruyere and wagu beef
Satisfy you burger-cravings with Bistro Bon's hefty Gruyere cheese wagu-beef version. The unusual combination of chilli pesto and bacon with French fries is well worth its acclaimed reputation.
Price: About 155/215 SEK (half/whole) + 50 SEK för double
More information: Bistro Bon, Renstiernasgatan 30, Södermalm

Bistro Bon
American Table: À la NYC
American Tables pays homage to the city that never sleeps. New York-style ground beef burgers are served complete with onion rings, bacon, cheese and fries. Hamburgers are available for lunch and dinner, the brunch buffet features mini sliders.
Price: About 195 SEK
More information: American Table Brasserie and Bar, Östra Järnvägsgatan 35, City
Marie Laveau: Southern soul
Neon-adorned Marie Laveau fuses Southern comfort food and Cajun influences, reflected in the flavoursome burger with bourbon caramelized onions and sweet potato fries. Cheeseburgers and veggieburgers are also featured on the bar, brunch and kiddies menu. Perfect for the whole family.
Price: Dinner burger about 235 SEK, brunch/bar about 125-190 SEK, children's burger about 80 SEK
More information: Marie Laveau, Hornsgatan 66, Södermalm
Pressklubben: An abundance of beer
Despite its slightly anonymous exterior Pressklubben is well known for its impressive assortment of beer - over 750 kinds to be exact. Presskluben's menu also features an amazing hamburger - ideally washed down with artisanal beer.
Price: About 235 SEK
More information: Pressklubben, Vasagatan 50, City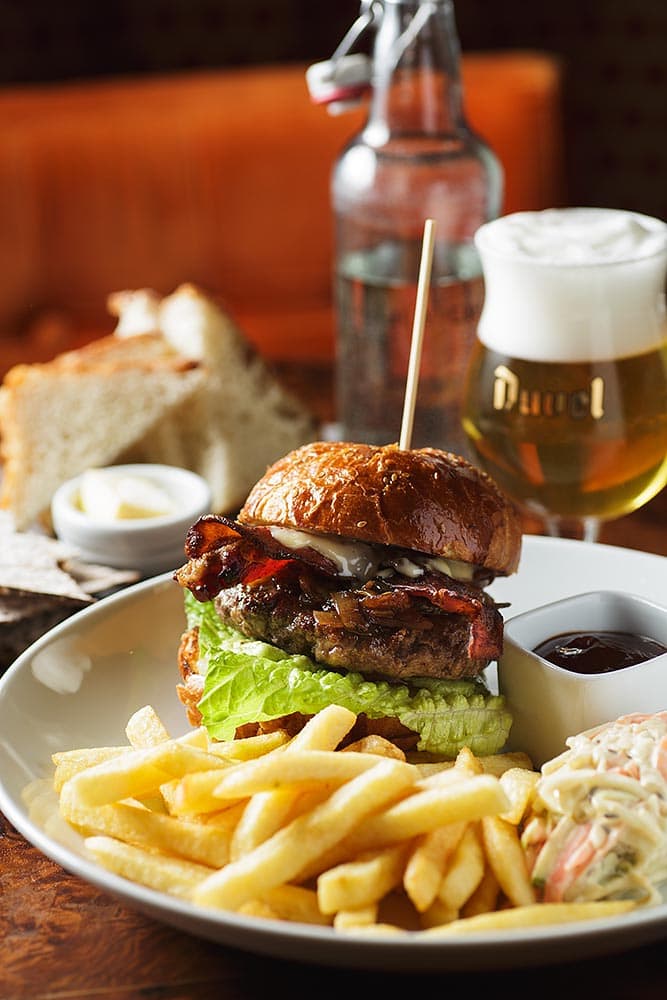 Pressklubben
Grill Ruby: Talk of the town
Grill Ruby is considered to serve one of the best charcoal-grilled burgers in the city. Regular meat patties, cheeseburgers and vegetarian options are all featured on the menu. Choose between trimmings such as béarnaise sauce, tomato salsa and guacamole.
Price: About 189 SEK, bacon + 20 SEK, sides about 45 SEK
More information: Grill Ruby, Österlånggatan 14, Gamla Stan

Grill Ruby
The Flying Elk: Burgers gastropub-style
The Flying Elk serves 'proper pub grub' and this includes juicy burgers with sophisticated trimmings. Its tasty composition makes it well worth a trip to Gamla Stan. The restaurant only serves burgers on Sundays, however it is available on the bar menu throughout the week.
Price: About 215 SEK
More information: The Flying Elk, Mälartorget 15, Gamla Stan
Lydmar: Relaxed living-room vibes
Lydmar is synonymous with its ultra-chic living-room style decor. The hotel restaurant features large sofas, bookshelves and art. The French-Americana menu would not be complete without a classic cheeseburger with fries and a salad.
Price: About 195 SEK
More information: Lydmar, Södra Blasieholmshamnen 2, City


Lydmar
Broms: Brunch and burgers
This charming neighbourhood restaurant with its own in-house bakery and deli serves a great brunch-burger. Choose a double-burger with pancetta, onion rings and dreamy truffle sauce to cure your weekend-blues.
Price: About 195 SEK including French fries (only served during the weekend)
More information: Broms, Karlavägen 76, Östermalm

Broms
Matbaren: Luxurious Wagyu beef burger
Matbaren's luxury burger is probably one of the best in the city. Depending on supply it is only sometimes available on Sundays, freshly delivered from a local Wagyu beef butcher. The delicate portions are quickly sold out, so be sure to arrive on time.
Price: About 350 SEK
More information: Mathias Dahlgren Matbaren, Södra Blaiseholmshamnen 6, City
Saddle & Sabre: Authentic Southern hospitality
This rustic steakhouse serves meat from a local farm in Sörmland and its classic cheese and bacon burger is definitely worth the calories. Up for a challenge? The menu also features an impressive 400g version - with fries, naturally.
Price: About 189/299 SEK
More information: Saddle & Sabre Saloon & Steakhouse, Tegnérgatan 9, City

T/BAR: Location, location, location
With emphasis on the finest ingredients Hotel Diplomat's brasserie serves a mean hamburger. The flavour is enhanced by applewood-smoked bacon and caramelised onions. Enjoy a juicy patty with extraordinary harbour views.
Price: About 225 SEK
More information: T/BAR (Diplomat), Strandvägen 7, Östermalm

T/BAR
The Churchill Arms: British pub burger
Apart from and abundance of beer and whiskey this quintessentially British pub has an ambitious cuisine. The pub menu features a cheeseburger with a hefty 200g-meat patty complete with bacon and French fries. Other alternatives include game-burgers with cranberry ketchup and vegetarian options such as halloumi and Portobello mushroom.
Price: Cheeseburger about 189 SEK
More information: The Churchill Arms, Tulegatan 21, Vasastan

The Churchill Arms
---
Extra: For the ultimate 'homemade' burger
Cajsa Warg: Treat your guests to a luxury truffle-burger
A homemade burger is hard to beat, but it you need some help along the way this quaint deli and grocery store is your knight in shining armour. Up your burger-game with some ready-made sirloin steak and fillet truffle patties - perfect for a not-so-casual dinner at home.
Price: About 100 SEK for two 50 gram burgars (500 SEK/kg)
More information: Cajsa Warg Södermalm, Renstiernas gata 20, Södermalm
More information: Cajsa Warg Vasastan, S:t Eriksplan 2, Vasastan
You may also like:
- Hamburger joints: The Best Hamburger Joints in Stockholm
- American restaurants: The Best American Restaurants in Stockholm
- Sports bars: Guide to the Best Sports Bars in Stockholm
- Beer halls: The Best Beer Bars in Stockholm
- Pizza: The Guide to the Best Pizza in Stockholm
- Meat restaurants: The Best Meat Restaurants in Stockholm
About the guide the best hamburgers in Stockholm
Our guide to the best hamburgers in Stockholm is updated continuously. If you know of a great hamburger restaurant in Stockholm that we have not featured in our guide please leave a note in the comments section below. Feel free to email us at hello@thatsup.se if you feel that we should add a burger joint in Stockholm to our guide. Please let us know if you see any mistakes in our guide to the best hamburgers in Stockholm.
Related articles: