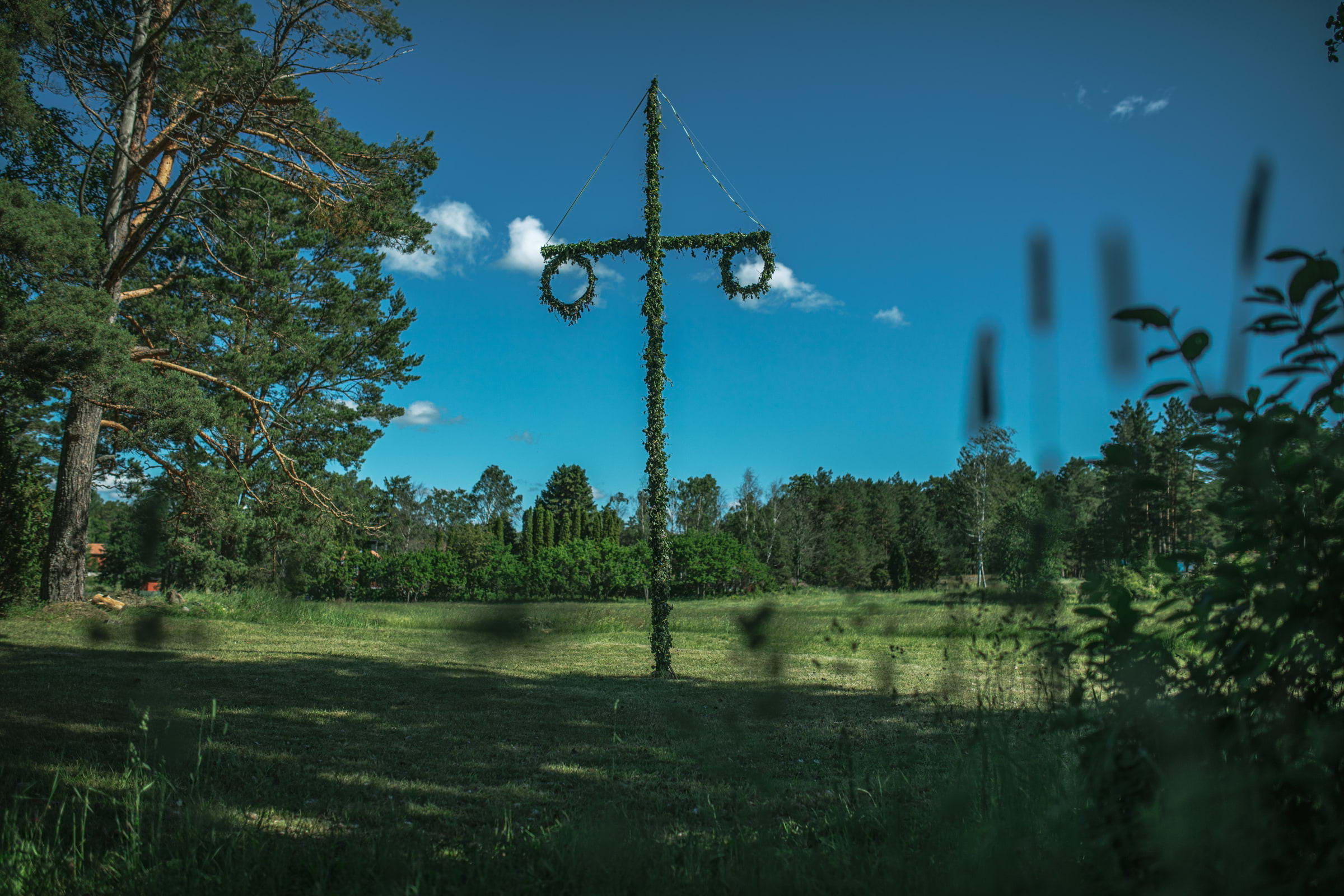 Celebrate midsummer in Stockholm
Updated 4 Jun 2019
Midsummer, probably the best-loved and most evocative of Swedish traditions, is typically celebrated in the countryside. But whether you'd rather experience a traditional celebration or party hard in town, there's still plenty to do in Stockholm on Midsummer's Eve. We guide you to the midsummer celebrations out in the city's parks, the city centre and out in the Stockholm archipelago. Dance round the maypole, enjoy pickled herring with a shot of aquavit or make it into a proper night out at a nightclub. This guide applies to midsummer in Stockholm in 2019.
Skansen
Djurgårdsslätten 49-51, Djurgården
The most traditional celebrations in the city
Skansen's midsummer celebrations last for three days and include traditional dancing, games and songs for old and young alike. Apart from the maypole and games, there's a market and masses of other activities the whole weekend.
Price: Adults 195 SEK, children (4-15 yrs old) 60 SEK, pensioners 175 SEK
Time: Celebrations begin at 10 am (on Midsummer's Eve)
Hasselbacken
Hazeliusbacken 20, Djurgården
(Un) traditional festivities
Celebrate a traditional, but slightly unusual, midsummer at Hasselbacken with drag artists Martin "Miss Inga" Johansson and Ingmari "Helga" Pagenkemper. This summer they'll be taking over the historic hotel on Djurgården with folk costumes, singing, games and maypoles - and plenty of surprises. After the festivities, the evening will continue with open bars and DJs.
Price: Free entry
Time: From 11am on midsummer's eve
Mosebacketerrassen
Mosebacke Torg 1–3, Södermalm
Midsummer with a view
Mosebacketerrassen has always been a popular option for anyone wanting to stay in town to celebrate midsummer. There are games, food and music - along with a spectacular view out towards Djurgården and the entrance to Stockholm harbour. Everyone's welcome to join in the fun, both young and old. Expect face painting, singing, dancing around the maypole, games and a midsummer buffet in Restaurang Mosebacke.
Price: Free entrance to the festivities, midsummer menu around 395 SEK
Time: From midday on Midsummer's Eve
Vintervikens Trädgård
Vinterviken, Hägersten-Liljeholmen
Celebrate in the long grass
Vinterviken is one of the city's most idyllic areas, and celebrating midsummer here has become ridiculously popular. You can celebrate in a traditional way on the meadow by the large stage by helping to decorate the maypole and dance around it all afternoon. Vintervikens Trädgårdskafé is open and a modern midsummer buffet will be served in the Orangery. No reservations.
Price: Small entrance fee for the festivities, free for members. The buffet costs 275 SEK (children up to 12, 120 SEK)
Time: Café 11am-6pm, buffet 12-3pm, the pole will be decorated at 1pm
Hågelbyparken
Hågelby Gård, Botkyrka
Maypole, folk dancing and games in the park
Celebrate a traditional midsummer in this lovely public park with dancing around the maypole and a park pentathlon (20 SEK/per family). International Yoga Day will be celebrated on the same day with al fresco yoga and dancing. The Wärdshuset LM restaurant will be serving a midsummer buffet and you can get lunch and homemade cakes and buns at Café Anna Giertz. You can also take a picnic with you and buy hot dogs and ice cream and other snacks at the park kiosk.
Price: Free entrance
Time: From 11am
Sjöboden
Seregårdsvägen 1, Djurönäset, The Archipelago/Värmdö
Pickled herring and island vibes
If you want to go all-in on midsummer, take a trip out to Djurönäset in the archipelago and celebrate with a herring lunch and midsummer dinner in the Sjöboden, Matsalen and on the Terrace. You can even book an special overnight package with bicycle and canoe hire included if you want to stay put and enjoy the whole midsummer weekend.
Price: Herring lunch 295 SEK
Time: Sittings from 11.30 am, last sitting 8pm
More tips for traditional midsummer celebrations
There are masses of parks and gardens in Stockholm to visit for anyone who wants to dance round the maypole. Free celebrations with dance and games will be happening at Farsta Gård in southern Stockholm from 1pm. At Boo-badet in Nacka, between the city and the archipelago, there will also be traditional festivities with dancing round the maypole, children's entertainment and more from 1pm. In popular Tyresö Slottspark they're holding a large midsummer party with barbeque, lottery and much more, from midday. All these events are free.
Midsummer in the archipelago
If you want to celebrate midsummer in the archipelago one suggestion is to take the bus or boat to Lägret in Vaxholm, for traditional Midsummer celebrations with folk dancing and a maypole. Värmdö Bygdegård is arranging dancing, dance games, and much more from midday (the maypole will be decorated from 11am). On Adolfs torg in Sandhamn, midsummer will be celebrated with a maypole, singing and plenty of cooling ice cream. The pole will be decorated at 10am, festivities start at 3pm. Free entry!