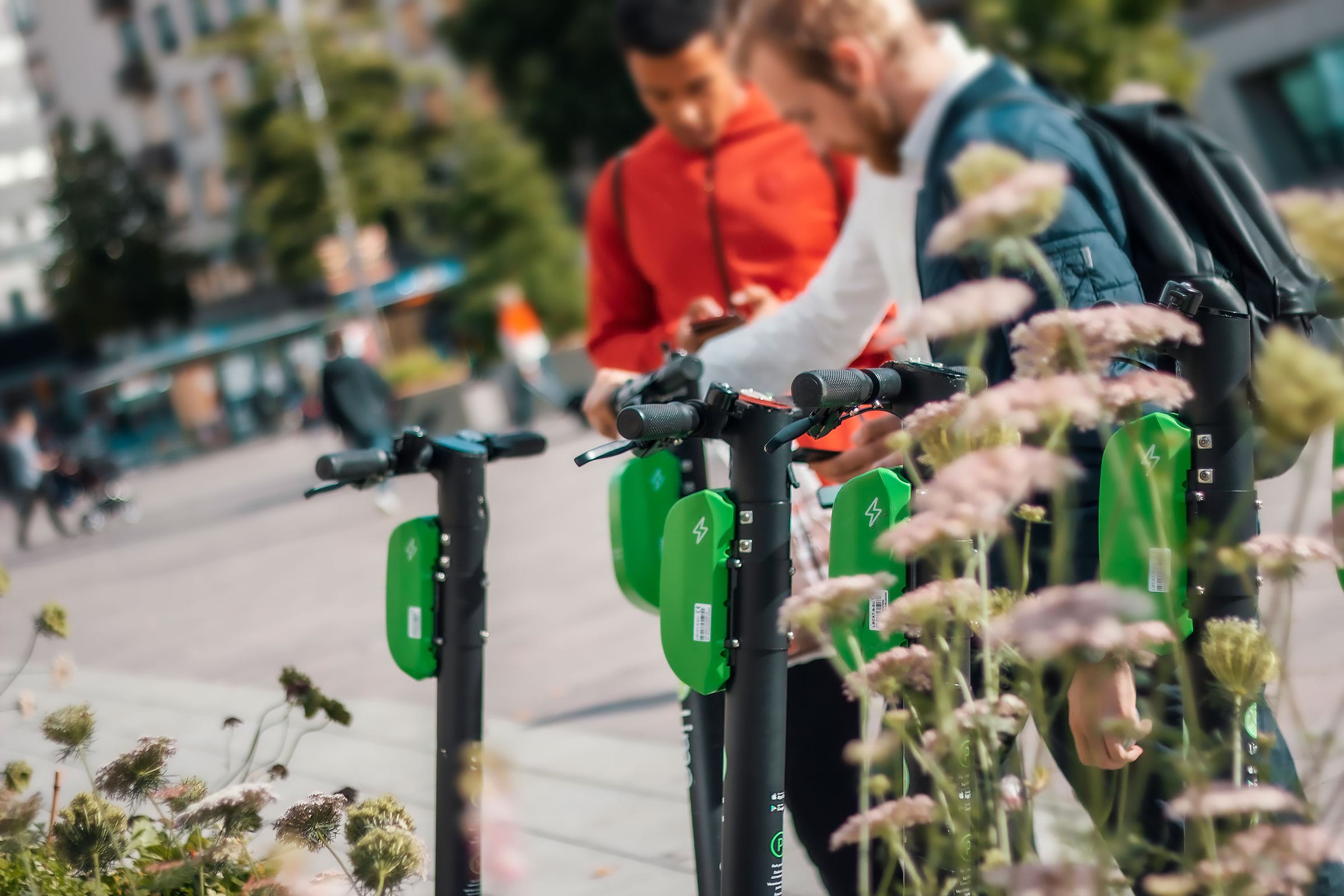 Getting around Gothenburg - how to hire an electric scooter
Updated 17 Jun 2020
Since electric scooters and electric bikes hit the streets of Gothenburg, it's never been easier to get around the city. Parking is as straightforward as getting from A to B - once you're done with your scooter you just leave it where you are with no need to worry about the risk of theft. With a simple app click you can also book a Vespa or rent an electric car - there have never been so many purse and planet-friendly modes of transport in our great city. Follow our guide to several smooth ways to get around Gothenburg.
Electric scooters
The Swedish firm Voi Technology was first out on the Swedish market and since autumn 2018 their scooters have been rolling the streets of Gothenburg. Their app shows you where the closest electric scooter is parked and you can then use it for a while before leaving it wherever you like within the permitted zones.
Price: Unlocking fee 10 SEK, then 3 SEK/min
Electric scooters
A new shade of green electric scooters hit the streets of Gothenburg in spring 2019. The American company Lime arrived, giving Voi a run for their money - and, just like with their competitors, all you need to do is download their app and then find the first lime-green scooter nearby.
Price: Unlocking fee 10 SEK, then 3 SEK/min
Electric scooters
The German electric scooter company Tier was already established in Stockholm and Malmö before they arrived in Sweden's second largest city. Und natürlich, just like the other scooter companies, you get started by downloading Tier's app to your mobile and finding the closest scooter to you.
Price: Unlocking fee 10 SEK, then 2,25 SEK per minute
Vespas
Cruise through Gothenburg's streets like a chic Italian. Dodge the traffic and glide uphill on a cool Vespa. Vespa Göteborg also offers various tours, such as "Along the harbourfront" and "In Håkan's footsteps".
Price: 550 SEK/5 hrs, 790 SEK/24 hrs
Bicycles
Gothenburg's trusty two-wheeled retainers Styr & Ställ are a familiar sight on the city scene. For more than ten years, Gothenburgers and visitors have been able to cruise around the city streets in a straightforward, good-value way. Download their app or register at a Styr & Ställ terminal.
Price: One-off journeys 20 SEK, 300 SEK/year
Mopeds and electric bikes
Hygglo strikes a blow for the sharing economy with the motto "things are there to be used". You can hire out things you don't need at the moment as well as hiring things you do need. As well as household items, electronics and tools, you can also hire mopeds and electric scooters at reasonable prices.
Price: Moped from 300 SEK/day and 1650 SEK/week, electric scooter from 200 SEK/day and 900 SEK/week.
Electric cars
If you want to roll quietly, economically and in a climate-friendly way, hiring an electric car could be the way to go. Sixt has a wide range of energy-saving models such as Tesla, BMW and Smart - and the average costs per mile are lower than with a petrol-run car. The average age of the company's car fleet is 6 months, so you're always behind the wheel of the latest technology.
Price: Mini Cooper from 1360 SEK/day
Cars
If you only need the use of a car occasionally, renting instead of buying makes sense. You'll save on the large capital outlay and maintenance costs. One example of a rental solution is Snappcar, where you can hire a car in your area from private people - via an app. Search on a specific street or see all the cars nearby - then book easily via your phone.
Price: A Volvo XC70 costs around 750 SEK/24 hrs