Guide to the Best Pubs in Stockholm
Pubs - a classic British phenomenon has also become an intricate part of the Swedish social scene. Whether your looking for a quiet local, a connoisseur on the prowl for Stockholm's best craft beer, ale or lager, or just in need of a couple of pints and traditional pub grub we've got you covered. Our guide to the best pubs in Stockholm includes German beer halls, gastropubs and distinguished British joints.
You may also like:
- Beer bars: The Best Beer Bars in Stockholm
- Sports bars: Guide to the Best Sports Bars in Stockholm
- Cocktail bars: The Guide to the Best Cocktail Bars in Stockholm
- Hamburgers: The Best Hamburger Joints in Stockholm
- American restaurants: The Best American Restaurants in Stockholm
Bierhaus: A German biergarten
Bierhaus pays homage to classic 1930's beer houses yet in a modern pub-style setting. German artisanal beer and homemade bratwurst are served. Wooden panelling, communal tables and benches enhance the relaxed ambiance.
More information: Bierhaus, Tegnérgatan 10, Vasastan

Bierhaus
The Churchill Arms: For beer and whiskey lovers
This quintessentially British pub boasts an ambitious cuisine and well stocked bar. The Churchill Arms exudes charming authenticity with leather armchairs and bookcases. Choose between 28 tap beers and an outstanding assortment of IPA, wheat beer and Mexican brew.
More information: The Churchill Arms, Tulegatan 21, Vasastan

The Churchill Arms
The Flying Elk: An ambitious gastropub
The Flying Elk gastropub is an innovative spin off on a classic British pub. The ambitious cuisine is signed Björn Frantzén - a Michelin star restaurateur. Proper pub grub is served on rustic wooden planks. Corner Club round the corner is also part of the family.
More information: The Flying Elk, Mälartorget 15, Gamla Stan
Pressklubben: For beer connoisseur
Pressklubben is melting pot for beer enthusiasts. This charming restaurant and bar is famous for its impressive assortment of beer - over 750 kinds of artisanal beer from 115 breweries.
More information: Pressklubben, Vasagatan 50, City

Pressklubben
The Queens Head: A British gastropub
This charming gastropub offers a culinary trip to London, serving classic pub food. Thirsty guests with a penchant for draft beer are given a choice of over 40 different types.
More information: The Queens Head, Drottninggatan 108, City

The Queens Head
The Dubliner: Sweden's oldest Irish pub
The Dubliner pays tribute to its Irish heritage. This authentic pub is ideal for casual hangouts with a pint of Guinness at hand and watching the latest games on a wide screen.
More information: The Dubliner, Holländargatan 1, City
The Bull and Bear Inn: For the whiskey connoisseur
Stureplan is typically associated with it's offering of nightclubs and fancy restaurants. However The Bull and Bear Inn breaks this trend, boasting 23 different kinds of draft beer and over 230 types of whiskey as well as classic pub grub. The living room-style decor adds to the ambiance.
More information: The Bull and Bear Inn, Birger Jarlsgatan 16, Östermalm
Akkurat Restaurang & Bar: Beer and whiskey for everyone
Rustic Akkurat stocks about 400 malt whiskeys and 200 different kinds of beer. This classic establishment has been around since the 90's and caters to a wide audience. They are particularly famous for their mussels – a cold pint and a pot of seafood makes for the perfect combination.
More information Akkurat, Hornsgatan 18, Södermalm
Bistro Humlehof: Charming beer hall-style
Södermalm houses an abundance of pubs and Bistro Humlehof is a popular alternative. The menu features classic bratwurst, schnitzel and goulash. Their generous assortment of beer includes German and Czech varieties such as the bitter Becherovka. During the summer the outdoor terrace is a popular haunt.
More information: Bistro Humlehof, Folkungagatan 128, Södermalm
Tudor Arms: The oldest British pub in Stockholm
This traditional joint has been around since 1969 and exudes genuine Union Jack-charm. In 2010 Tudor Arms was nominated the world's best British pub outside of the UK by the Daily Telegraph and British Airways. Grab a pint and watch the latest Premier League game.
More information: Tudor Arms, Grevgatan 31, Östermalm
Kvarnen: Oldie but goodie
Kvarnen is one of the oldest beer halls in the city, dating back to 1908. The rustic venue is complete with checkered floors, intimate booths and brass lamps. Traditional homemade fare such as meatballs, fried herring, black pudding and smoked sausage is served. Grab a pint whilst you are at it.
More information: Kvarnen, Tjärhovsgatan 4, Södermalm

Kvarnen
Soldaten Svejk: Eastern European vibes
This charmingly rustic tavern serves traditional Eastern European food such as schnitzel and sauerkraut. The Czech-style venue offers beer in plenty, such as Bernard and Primator. In the mood for a pub-crawl? Bistro Humlehof and Harvest Home are just a few minutes away.
More information: Soldaten Svejk, Östgötagatan 35, Södermalm
Harvest Home: Your second living room
Harvest Home isn't your quintessential pub - this neighbourhood restaurant is a bit more like a second living room. The ambiance is relaxed; the slightly haphazard decor is charming and rustic. Apart from an extensive assortment of beer the à la Carte menu appeals to hungry diners.
More information: Harvest Home, Bondegatan 50, Södermalm

Harvest Home
Öleriet: Burgers and beer
Burgers and beer - the combination is a stroke of genius, right? This hidden gem in Vasatan specialises in the two. The well-stocked bar offers about 150 bottled brews and the 13 draft beers on tap are regularly updated with exciting flavours, predominantly from local breweries.
More information: Öleriet, Kungstensgatan 55, Vasastan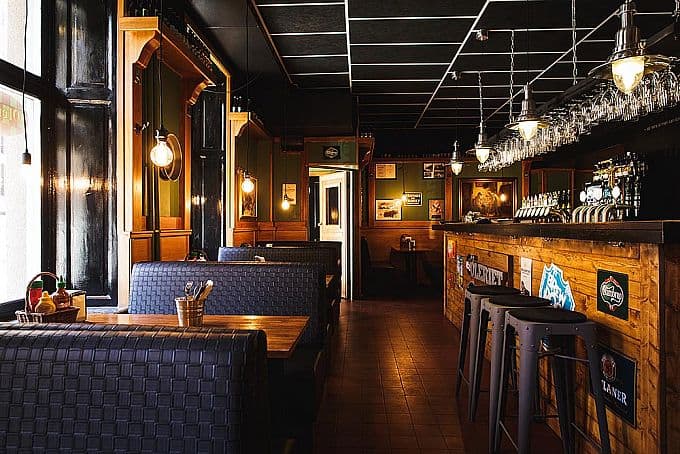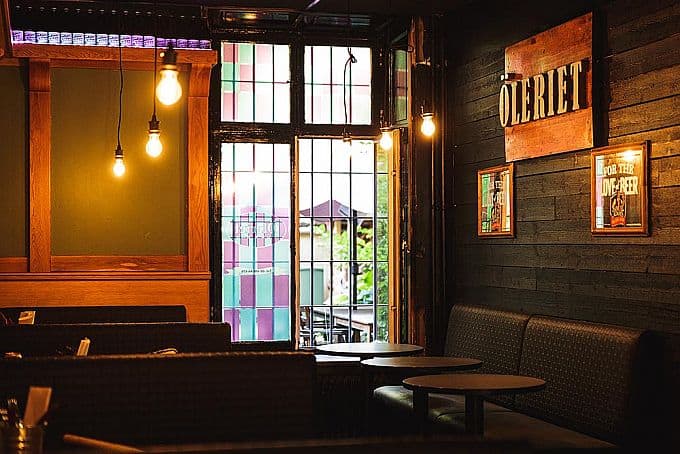 Öleriet
The Flying Horse: Over 100 kinds of beer and whiskey
This quintessential pub-cum-sports bar boasts bustling atmosphere and old-school vibes. The Flying Elk serves classic pub food and the bar's repertoire includes 16 different types of draft beer and more than 100 kinds of bottled beer and single malt whiskeys.
More information: The Flying Horse, Odengatan 44, Vasastan

The Flying Horse
Crazy Horse: The wild, Wild West
Crazy Horse pays tribute to the Wild West and to a somewhat crazy horse belonging to a certain Nebraska chieftain. The Americana-influences are blatantly obvious from the decor to the menu. With emphasis on quality the extensive menu appeals to a wide audience. The bustling bar is a popular haunt after hours.
More information: Crazy Horse Saloon & Bar, Sveavägen 60, City

Crazy Horse
The Liffey: Luck of the Irish
Among the charming cobblestone alleyways in Gamla Stan, lies The Liffey. A genuine Irish pub that boasts three different bars, an extensive whiskey collection, classic pub food and live music - what more could you wish for?
More information: The Liffey, Stora Nygatan 42, Gamla Stan
Baras Backe: Relaxed and unpretentious
This quaint pub is a popular destination due to its welcoming ambiance and generous beer assortment. The premises offer both rustic cubbyholes with vaulted ceilings and modern minimalism. The affordable menu is perfect for a casual night on the town.
More information: Baras Backe, Götgatan 33, Södermalm
Sjätte Tunnan: Back in the ol' days
Hop on a time machine and head back to the Middles Ages. This rustic restaurant serves traditional Swedish fare à la 1435 along with abundance of homebrewed mead and over 100 kinds of artisanal beer.
More information: Sjätte Tunnan, Stora Nygatan 43, Gamla Stan

Sjätte Tunnan
Movitz: Classic à la Gamla Stan
This genuine pub it named after troubadour Bellman's famous character. The vaulted ceilings dating back to the 1600's set the tone for the evening. Locals and tourists alike, flock to this charming establishment to enjoy a pint or two and some good food.
More information: Movitz, Tyska brinken 34, Gamla Stan

Movitz
Mackinlay's Inn: A Scottish highlander
This traditional pub pays homage to its Scottish heritage with abundance of beer and over 80 single malt whiskey varieties. The menu features pub classics such as fish 'n' chips, Croque Monsieur and bangers. Particularly popular during the weekends, this beer joint appeals to a wide audience.
More information: Mackinlay's Inn, Fleminggatan 85, Kungsholmen
Loch & Quay: Dockside glory
Beautifully located upon the waterfront in Gamla Stan, Loch & Quay fuses Swedish and British influences. The pub-style venue offers breath taking views over the water, hence the menu features predominantly fish. The bar naturally offers choices of beer, cava and wine.
More information: Loch & Quay, Skeppsbrokajen, Gamla Stan
Wirströms Pub: A genuine Irishman
This quaint Irish joint is the only Irish-owned pub in Stockholm and is a popular haunt for local anglophiles. Wide screen TVs show the latest football and rugby matches. The bar specialises in whiskey - why not book a tasting? Live music is a much-appreciated feature as well.
More information: Wirströms Pub, Stora Nygatan 13, Gamla Stan
Bagpiper's Inn: A wee bit Scottish
Bagpiper's, as the name implies, embodies Scottish charm to the fullest. Expect flowing whiskey and beer along with ambitious pub food, camaraderie and authentic decor. The pub also organises quiz-nights and shows the latest games.
More information: Bagpiper's Inn, Rörstrandsgatan 21, Vasastan
The Londoner: Football, beer and whiskey
If you like football, enjoy a good ol' pint or maybe a tumbler of whiskey you've come to the right place. Classics such as fish 'n' chips and burgers are served in an unpretentious atmosphere. The beer offerings are predominantly British.
More information: The Londoner, Karlavägen 52-54, Östermalm
Monks: With two of its own breweries
Ardent beer connoisseurs frequent Monks. This central brewery offers over 1 400 different kinds of beer inspired by ancient practices from European monasteries - hence the name. Simple, yet classic dishes are served, their mussels are particularly notorious.
More information: Monks Café & Brewery, Wallingatan 38, City. Monks Whisky Paradise, Munkbron 15, Gamla stan.
The Bishop's Arms: Quintessentially British
Drop by The Bishop's Arms for a proper pub-burger topped with cheddar cheese and wash it down with a cold pint. This classic pub is loved for its casual accessibility with multiple venues around the city.
More information: The Bishop's Arms Bellmansgatan, Södermalm, Folkungagatan, Södermalm, Linnégatan, Östermlam, S:t Eriksgatan, Kungsholmen, Vasagatan, City
Other great pubs in Stockholm:
The Big Ben
Oliver Twist
Half Way Inn
Man in the moon

You may also like:
- American restaurants: The Best American Restaurants in Stockholm
- Beer bars: The Best Beer Bars in Stockholm
- Sports bars: Guide to the Best Sports Bars in Stockholm
- Cocktail bars: The Guide to the Best Cocktail Bars in Stockholm
- Pizza: The Guide to the Best Pizza in Stockholm
- Hamburgers: The Best Hamburger Joints in Stockholm
- Activities: The Complete Guide to Activities in Stockholm
About the guide the best pubs in Stockholm
Our guide to the best pubs in Stockholm is updated continuously. If you know of a great pub in Stockholm that we have not featured in our guide please leave a note in the comments section below. Feel free to email us at hello@thatsup.se if you feel that we should add a pub in Stockholm to our guide. Please let us know if you see any mistakes in our guide to the best pubs in Stockholm. Otherwise enjoy your visit at the bar of your choice.
Related articles: